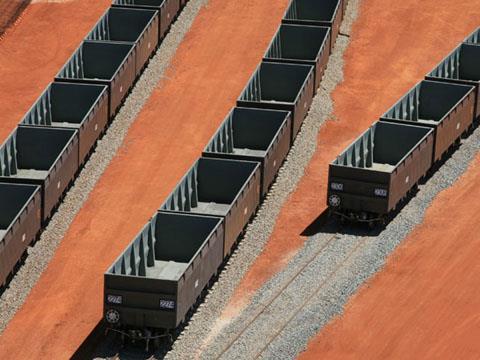 AUSTRALIA'S Fortescue Metals Group is due to receive shortly the last of 820 wagons ordered from China to carry iron ore on the 310 km heavy haul railway that it is building between its mine at Cloud Break and Port Hedland in the Pilbara region. The last wagon was due to be completed in December.
Already delivered to Port Hedland are all 15 of FMG's GE Dash-9 locomotives that will begin hauling ore trains later this year. Having lost time because of damage caused by Cyclone George in March 2007, FMG is accelerating the pace of work on the railway in a bid to meet the May 2008 target date for the first ore shipment to China. The company said in November that it expected to pay an additional A$100m to ensure that the project was completed in time, taking the total cost to more than A$2·67bn.
More than 80% of the port infrastructure has been finished, and the A$900m railway is now the critical element in the scheme (RG 6.05 p330). Work is in progress at six sites, with bridges being built at eight locations. Tracklaying is proceeding at the rate of just under 2 km a day using a Plasser & Theurer SUM1000 machine, and this work is being supplemented by two manual tracklaying teams.