FRANCE: Bombardier rolled out the first Francilien trainset in July. Murray Hughes reports from the company's Crespin factory near Valenciennes in northern France.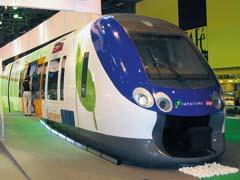 Smokestack industries have all but vanished from northern France. Signs of coal mining and steelmaking have disappeared from the landscape, but one traditional industry remains - rolling stock manufacture.
Today, Bombardier's factory in Crespin near Valenciennes is as busy as ever, assembling coaches for Duplex TGVs, double-deck EMUs and single-deck AGC trainsets for French regional services. Now the factory is gearing up to produce a different type of train - an articulated EMU for Paris and Ile-de-France suburban routes.
Known first as Nouvelle Automotrice Transilien and now as Francilien, the single-deck design breaks with many traditions, as Parisians will find when the first trains enter service at the end of 2009. Particularly striking are the short, wide car bodies with a single door on each side. Bombardier says that its wide-body concept offers the same capacity as double-deck trains of similar length – a key factor in the closely-fought contest for the Paris contract.
The Francilien represents the first of a family of rolling stock based on Bombardier's Spacium 306 modular product platform, so called because of its 3·06 m wide bodyshells (RG 9.07 p574).
Demanding contract
Philippe Ogier, Project Director for the Francilien in Bombardier's Mainline & Metros Division, highlights the difference between the contract for the future Paris suburban fleet and the contracts won to supply AGC multiple-units to the French regions. Orders for AGCs now total 698 sets, which are being supplied in diesel, electric and electro-diesel versions to different specifications. In contrast, the Francilien is built to a single design and for a single customer - but the contract is more complex and more demanding.
Ogier explains that SNCF laid down very specific requirements in terms of reliability, maintainability and life-cycle costs. Doubtless driven by the demanding performance levels set by STIF, the Ile-de-France transport authority, SNCF now views train maintenance as a critical area - all maintenance tasks for the Francilien, for example, have to be measured and quantified on the basis of the train's estimated 30-year life.
One of the consequences has been a learning process among Bombardier's suppliers, where component designers have been obliged to assess maintenance costs and review or change equipment accordingly. Ogier admits that all this 'is a bit more expensive' at the design stage, but the end result will be lower life-cycle costs.
To make the point, Ogier cites the example of folding steps below the Francilien's entrance doors to cope with platform heights of just 550 mm. Retractable steps are a notorious source of unreliability, and Bombardier has devised a module in which all components are housed in a cassette held in position under the bodyshell by two bolts. The cassette simply slides in and out from the side of the train.
The cassette concept also illustrates another design principle - ease of access. On earlier types of train, access to the folding steps sometimes required an underfloor pit. In the same way, Bombardier and its subcontractors have gone to considerable trouble to ensure that those components most likely to require attention are easily accessible.
Although a number of components have been proven on previous types of train such as the AGC, every item has been reassessed. For example, while the FlexCompact bogie is based on that used for the AGC, improvements have been made to give better reliability - and the design is no longer exactly the same. Similar considerations apply to the traction package and control equipment - and in this sense '90% of the equipment is new', affirms Ogier.
A number of components have back-up controls allowing reconfiguration of the train so that it can continue to function in the event of a component failure. This applies to the transformers and pantographs and other items such as doors.
Bombardier's Orbita predictive maintenance system (RG 7.07 p447) uses data transmitted from the train to depots. This will indicate to Bombardier and SNCF staff which components may need checking and what work should have priority. Data will be analysed to identify patterns which may indicate that a problem is developing. For SNCF the data will include passenger counts, allowing traffic levels to be monitored in real time.
Tight timescale
Bombardier received a notice to proceed with the €1·85bn Francilien order on November 6 2006, and the contract was signed on November 22. Covering 77 eight-car trains for routes serving Paris Nord, 55 seven-car trains for lines radiating from St Lazare and 50 eight-car trains for Paris Est, it requires delivery of the first fully-certified train by December 1 2009. The contract is now at the halfway point, with the first train commencing tests last month on the factory site.
Running trials are due to start on August 25, with the train moving to the nearby test circuit at the Sogef site in Valenciennes. The first unit will be followed off the production line by five more test trains destined to verify performance during trials lasting 10 months. Two are to undergo endurance trials at Velim in the Czech Republic, starting in July 2009, the aim being for each train to accumulate 60000 km of test running. Another set will be tested at up to 160 km/h at Wegberg-Wildenrath in Germany, while yet another will visit Wien to assess its performance in the climate chamber there. The testing process will include certification trials, and full certification is expected in October 2009.
In the meantime, Bombardier is putting the Francilien components through a series of tests in its own laboratory at Crespin. A collision test was carried out on a front end in July 2007 to assess crashworthiness, with a force of 103 tonnes applied at 32 km/h. As intended, the cab remained intact, with four collapsible elements performing as expected.
An intermediate car bodyshell has already been subjected to compression tests, and an end vehicle was being instrumented in mid-June ready for the same treatment. Early July should have seen a start made on testing a bolster using a fatigue test simulating 25 million load cycles, and bogie testing is due to begin in September.
The Crespin laboratory is also testing the electrical and control equipment for two complete trains.
Doors are often the cause of reliability problems, and Bombardier is determined to ensure that any weaknesses in the door design are ironed out before the trains enter service. The IFE doors chosen for the Francilien are being subjected to a prolonged period of testing in a specially-constructed testbed in which all kinds of unfavourable conditions can be simulated, including wet weather, flexing of the car body, passengers leaning on the doors and objects left as obstructions in the doorway.
Production line investment
The demanding 36-month contract timescale was only possible because 'we put in a lot of work on the production process', notes Ogier, adding that Bombardier turned to the car industry for its model, seeking ways to make assembly faster and simpler. Evaluation of different production concepts led the company to invest €15m in setting up a dedicated production line.
Ogier says that one-third of the Crespin plant has been renovated, with new lighting and power supplies installed, together with dedicated tracks and underfloor pits. He remarks that the investment is fully justified 'as you only get a contract like this every four to five years. We will be building these trains for a long time, possibly up to 2022 if all the options are exercised.' An initial option would see 200 trainsets added to the first build, increasing the contract value to €2·7bn.
The dedicated production line has been built so that the whole assembly procedure is synchronised with individual vehicles moving along the line from one workstation to the next 'in a smooth process which ensures better efficiency and higher quality'.
As with the AGC, the Francilien production line has three access levels that can be worked on simultaneously. Refinements include more space on the lower level and an arrangement that allows the whole line to move at the same time. Each car body is held in a trolley-mounted frame that moves along the line, with components being delivered to each stage directly from adjacent storage areas.
Several major components are supplied pre-assembled. Cables, for example, are manufactured by a supplier in the adjacent Parc d'Activité Trans-Avenir, and Bombardier receives the car's cabling pre-installed on a large frame. This is slid into the car and screwed into the roof with connections ready to be made to the various components.
A dedicated bogie production line has also been set up, the target being to produce one bogie a day. When the main production line is running at full capacity, Bombardier will be turning out 28 trains a year, with the possibility of stepping this up to 40.
Steel bodies
Lightweight bodyshells are fabricated from high-tensile steel giving a weight per length of train equivalent to an aluminium car. The crashworthy shell has a fishbone underframe that takes all longitudinal forces; it is designed to withstand a force of 550 MPa, a figure which Ogier says is 'normally 350 MPa in the rail industry'.
Equipment is distributed along the train so that the highest axleload is 20 tonnes. The main transformers and batteries are located on the roof of the two end cars, with the traction converters mounted on the roof of the first, third, sixth and eighth cars. Braking resistors, also roof-mounted, are found on the second, third, fourth, sixth and seventh vehicles, with compressors located under the floor on cars two and seven.
Boost mode bogie
Five of the nine H-frame FlexCompact bogies in an eight-car set are powered. The train is designed to operate using only four power bogies, with the fifth available as a 'spare' or for 'boost mode' should a driver need to make up lost time.
Power is collected from one of two pantographs per train - sensors detect automatically whether AC or DC is being used. The traction package feeds conditioned power to two traction motors on each powered bogie, allowing the train to develop a starting tractive effort of 250 kN and a maximum speed of 140 km/h. A sixth power bogie can be added should higher performance be required. The traction motors are supplied from Mannheim in Germany.
A compact braking package developed by Knorr-Bremse blends electrodynamic braking with pneumatic brakes acting on wheel-mounted discs on all bogies; four bogies are also fitted with electro-magnetic rail brakes for emergency stops.
Floor heating
Each car has its own roof-mounted air-conditioning unit, with 31·5 kW available for heating and 35 kW for cooling. A separate air-conditioner for the cab is mounted above the coupler, as on the AGC.
For the first time heating is incorporated in the floor of the passenger saloons, something which had previously been used only in driver's cabs; the technique helps to keep the floor dry during wet weather and frees the space under the seats. Heating controls take account of passenger loadings and door opening.
The train interior is unusually bright and light, with deep wide double-glazed windows and vivid colours chosen for seating. The absence of steps and the wide gangways between cars should make it easy for passengers to move along the train. Each end car has a sliding plate below the entrance door which bridges the gap between train and platform for wheelchair users and passengers with pushchairs. One car in each set includes a cycle space.
Internet communications
A comprehensive IP-based communications package is installed, with four LED screens fitted in each car next to the vestibule. These can display a variety of information, including entertainment features and dynamic route maps.
Passengers will be able to watch digital TV with sound transmitted to special earpieces that receive signals via a digital protocol; Ogier says that the earpieces may initially be offered at no charge, but will probably be sold later.
An external screen adjacent to each door provides destination and service information, while CCTV will provide surveillance of the car interior.
Derivative designs
Ogier says that 'many customers' are interested in the wide-body designs Bombardier is developing, with 'potential clients in other countries in Europe'. The Spacium family includes versions with two doors per side for ultra-busy commuter routes and options for entrances with floor heights from 500 to 1000 mm - the Francilien is designed for platforms ranging in height from 550 mm to 920 mm. Formations of five to nine Spacium cars are envisaged. For the Francilien, the seven-car version is obtained by replacing the two centre cars with a shorter single vehicle with just one seating bay each side of the central entrance vestibule.
The small British loading gauge precludes a Spacium train being used in the UK, where Bombardier is bidding for the Thameslink contract (RG 5.08 p272). However, some of the design elements could be applied to an EMU for the British market - 'we have a lot of discussions with Derby', Ogier remarks.
Bombardier has looked in great detail at boarding and alighting times, relating these to doorways as a proportion of train length. It has divided the market into segments by type of train, with inter-city and regional services requiring less door space per length of train. Using a 'passenger exchange unit' of 650 mm, it calculated that the Francilien requires around 0·2 PEU per metre of train, with versions for high-density commuter routes needing around 0·35 PEU/m. For comparison, metro rolling stock requires 0·3 to 0·5 PEU/m.
The manufacturer has also studied passenger behaviour on commuter trains, noting that passengers do not wish to move far away from the doors on crowded services for fear of not being able to alight at their station. This was a key finding that led the company to include an unusually large vestibule area in the Spacium concept.
Whereas many recent train designs use sliding-plug doors, SNCF has opted for external sliding doors on the Francilien. Bombardier envisages that a sliding-plug option will be available on other versions.
Francilien eight-car trainsets for SNCF's Ile-de-France suburban services
Overall length (seven-car set) m
112·5 (94·3)
End car length mm
16 530
Intermediate car length mm
13 240
Width mm
3 060
Height mm
4 230
Bogie wheelbase mm
2 800
Wheel diameter, new mm
840
Inter-car gangway width mm
2 300
Door width mm
1 950
Floor height mm
1 050
Minimum curve radius m
100
Steepest gradient %
3·5
Maximum speed km/h
140
Weight tonnes
235
Maximum axleload tonnes
20·3
Power supply
25 kV 50 Hz, 1·5 kV DC
Continuous power rating kW
2 620
Acceleration m/s2
0·75
Fixed seats
418
Seat width mm
490
Fold-down seats
85
Standees @4/m2
493
CAPTION: Bombardier displayed a full-size mock-up of the Francilien train at the Salon des Transports Publics in Paris on June 10-12. The windows are 1 320 mm deep, helping to ensure a light interior.
CAPTION: Fig 1. The wide bodies allow a 550 mm gangway with 3+2 seating; priority seats are located next to the roomy central vestibule in each car.
CAPTION: The Compin seats are cantilevered from the side walls so that cleaning the floor is a simple task; the seat fixings are incorporated in the bodysides. Blue lights below the seats are complemented by a sequenced lighting display in the vestibules that changes as the train progresses along a route, with white lights used when the train is at a standstill in a station.
CAPTION: The first Francilien car was mounted on its bogies at Crespin on June 9.
CAPTION: The Francilien front end was subjected to a collision test at Crespin in July 2007, with four collapsible elements helping to absorb the impact of 103 tonnes at 32 km/h.
CAPTION: Bombardier has set up a special door-testing facility at Crespin that can simulate all kinds of operating conditions.