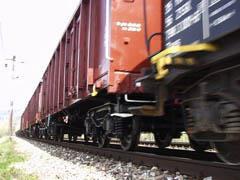 AUSTRALIA: Premier of Victoria John Brumby announced on October 20 that the state is to refurbish more freight-only branch lines as part of an A$38·7m funding package to support the state's rural economy.
The state government has launched a programme of works to raise speed limits and boost operating efficiency on various 1 600 mm gauge lines identified in its recent review of the rural freight-only network, which was bought back from Pacific National in May 2007 (RG 5.07 p260). The latest tranche of money is destined for the Benalla - Oaklands, Quambatook - Manangatang, Charlton - Sealake, Warracknabeal - Hopetoun; and Ouyen - Murrayville lines, where work will start in early 2009, bringing the proportion of Victoria's freight lines being upgraded to more than 70%.
Federal Infrastructure Minister Federal Infrastructure Minister Anthony Albanese confirmed in October that an A$72m upgrading of the 525 km Mildura line had passed the two-thirds point, with completion expected in the second half of 2009. The federal government is providing A$20m towards this project, with the state paying the rest. As well as renewing 40% of the sleepers on the route, the work includes the laying of a third rail at each level crossing to permit future conversion to 1 435 mm gauge.
Although Pacific National had threatened earlier this year to end rural freight operations in Victoria, the company has now committed to continue running grain trains. Rival operators Genesee & Wyoming and El Zorro have also signed agreements to move export grain traffic.