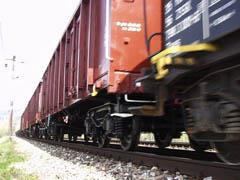 EUROPE: The May issue of Railway Gazette International reported suggestions that open-access operators in the European rail freight sector might not withstand the chill winds of the economic downturn, and commented that some had already been bought out by state-backed incumbent operators.
The logic is unassailable. Free from costly regulations and inherited union agreements, for example, companies such as TX Logistik (Trenitalia) or Euro Cargo Rail (DB Schenker) provide valuable Trojan horses for their owners to break into other markets in a cost-effective way.
Now it looks as if another pioneer is about to fall. Rumours had been circulating that Veolia Cargo might be for sale, particularly after parent Veolia Environnement announced that it was looking to sell non-core businesses to reduce its debt by €3bn over the next three years. And on May 11 Veolia confirmed that its rail freight operations were indeed being considered for possible disposal.
As operator of the first private freight train in France, Veolia Cargo is now the third biggest player in this market after Fret SNCF and ECR. It is also active in the Benelux countries and Italy, but its main centre of activity is Germany, where the business was strengthened through the acquisition of rail4chem in February 2008. With 1 260 staff and 200 locos, Veolia Cargo handled 4·5 billion tonne-km in 2008, generating a turnover of €188m. The company had been looking to develop a joint venture with French shipping giant CMA CGM for maritime container traffic, but this was called off by CMA in March.
The big question is who might buy, particularly in the current climate. One early suggestion was that Deutsche Bahn might like to remove one of its competitors, but DB has discounted the idea. The head of SNCF's Transport & Logistics business Pierre Blayeau confirmed on May 12 that Fret SNCF - which wants to expand its international reach - was indeed considering the possibility, were Veolia Cargo to be put up for sale.
The latest suitor to break cover is Italy's FS group. On May 18 Chief Executive Mauro Moretti confirmed that he was definitely interested. 'We will participate to win and not lose', he said, pointing out that FS had identified France as a target market 'as part of a strong policy of internationalisation'. As we reported last month, Trenitalia is already bidding for paths in France ready for the liberalisation of international passenger services.