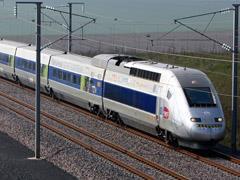 FRANCE: Anyone studying French railway policy over the last 20 years will find that one name stands out as a supporter of proposals to steer strategy towards a more commercial and viable future. That name is Hubert Haenel, Senator for Haut-Rhin, who, since he chaired an inquiry into SNCF in 1993, has become something of a rail specialist. He was instrumental in the policy that saw the regions take over responsibility for local services and since then has authored a series of reports on other aspects of rail policy.
Speaking to our correspondent on March 11, Haenel made it quite clear that he viewed the present arrangements for running the French railway network as unsatisfactory. 'The organisation does not allow development and there is no transparency', he said, adding that the 1997 reform which led to the creation of infrastructure manager RFF was a hasty measure designed simply to ensure compliance with European Directive 91/440. Noting that it has taken more than 10 years for a regulatory authority to be set up, Haenel considers that ministers 'only take legal decisions and have no transport policy'.
Last year Haenel recommended that SNCF's timetabling and path allo­cation staff should transfer to RFF (RG 11.08 p862). The government found this too contentious, but Haenel's suggestion has led to the drafting of a parliamentary bill to set up a separate division within SNCF grouping together the 14 400 signalling, control room and timetabling staff. Transport Minister Dominique Bussereau has already instructed SNCF President Guillaume Pepy to have the new organisation in place ?by January 2010 — just when the European directive on deregulation of international passenger services comes into force.
Haenel explained that the activities of the new body would be commercially confidential, and that although the organisation would remain as part of SNCF, it would be structured as an independent subsidiary with its own budget and accounts; its chief executive will be appointed by the transport minister. For Haenel, it was clear that 'sooner or later the new organisation will be turned into a subsidiary of SNCF or will become part of RFF'.
SNCF is meanwhile reorganising its operating division internally, while a new stations business is to be set up as recommended in a report by Fabienne Keller, Senator for Bas-Rhin, that was submitted to Prime Minister François Fillon on March 10. The report calls for separation of the station business from train operations to cater for the arrival of new operators from 2010, but it also calls for investment of up to €8·7bn in stations, of which one third would be spent in Ile-de-France.
Haenel also dealt with the question of introducing private-sector operators for regional services. The Alsace region is making preparations to call tenders to operate regional trains, but under legislation dating from 1982 when transport policy was overseen by the Communist minister Charles Fiterman, SNCF has an exclusive right to operate regional rail services. Haenel wants this law changed, and it appears that there is a possibility of a private operator starting a service on a route such as Guebwiller – Bollwiller where there are currently no trains. Our correspondent reports that an experiment with privately-run domestic trains may start in 2010 probably as a result of political pressure applied by Veolia.
Veolia is reluctant to comment on suggestions that it is looking at launching international rail passenger services next year, but SNCF is well aware that it may soon face rivals in this field. Perhaps with this in mind, Pepy is revising SNCF's procurement policy for high speed trains. Until recently the operator was planning to order up to 200 trainsets, but Pepy now favours smaller batches of trains tailored for specific markets.