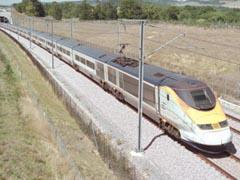 UK: Prospects for construction of a domestic high speed line inched closer last month, when newly-appointed Secretary of State for Transport Geoff Hoon revealed that he had asked his Minister of Transport with responsibility for networks (including rail) to take a closer look at the potential. Also newly in post, Lord Adonis is reported to be 'passionate' about high speed rail.
As we reported earlier this year, Network Rail has launched a strategic review into the case for building new lines, more in terms of adding capacity than cutting journey times. And the Public Interest Group formed by lobbying organisation Greengauge 21 has commissioned consultants to examine the potential for high speed lines in five corridors (RG 7.08 p421).
The debate took on a political dimension on September 28, when Shadow Transport Secretary Theresa Villiers announced that the opposition Conservative party favoured construction of a north-south high speed line instead of building a controversial third runway at London's Heathrow Airport. Hoon is less convinced, having approved in his first few days an expansion programme for London's third airport at Stansted.
Villiers said investing in high speed rail would 'leave a lasting legacy for the future and it will lay the foundations for a high speed network that I believe will one day stretch across the country.' Costed at £20bn, of which £4·4bn would come from the private sector, the first line would link Heathrow with London St Pancras, Birmingham, Manchester and Leeds; work would start in 2015 for 'full completion' by 2027. Her ambitious proposal would see trains replace around 66 000 short-haul flights. London – Birmingham journey times would be cut from 80 min to just 45 min, with Manchester reached in 1 h 20 min and Leeds in 1 h 37 min.