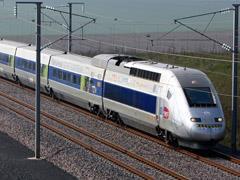 UK: Giving the government's backing for controversial plans to build a third runway at London Heathrow airport on January 15, Transport Secretary Geoff Hoon announced the formation of a body to consider the case for a London to Scotland high speed line. A decision on major electrification projects on existing main lines will also be announced later this year, and Hoon expressed support for the separate Airtrack proposal for additional local rail services to Heathrow.
The decision to establish High Speed Two to develop high speed plans follows experience with the Channel Tunnel Rail Link, now known as High Speed 1, and Crossrail. By the end of the year the company will produce a proposal for an entirely new line between London and the West Midlands. It will report on options for the route, a Heathrow interchange with the Great Western main line and Crossrail, access to central London, links to High Speed 1 and services to continental Europe. It will also look at financing and construction proposals. The government would then decide whether to proceed.
High Speed Two's work will build on a study by Network Rail, which found a strong case for a new line from London at least to the West Midlands, as the existing West Coast Main Line is forecast to reach its absolute capacity limit by about 2025. Booz Allen Hamilton has previously carried out analysis of new line options, and these will now be published. The Department for Transport has effectively rejected maglev technology, citing high costs, energy use and the lack of integration with existing lines.
High Speed Two will be chaired on an interim basis by Sir David Rowlands. Until 2007 Rowlands was Permanent Secretary at the DfT, where he advised ministers on the preferred route for the Channel Tunnel Rail Link and subsequently oversaw delivery of the line.
The Association of Train Operating Companies welcomed the announcements. 'A new high speed north-south line provides an opportunity for train operators to offer more seats and reduce journey times', said Chief Executive Michael Roberts. He pointed out that 'It is vital that train operators, with their understanding of passenger needs, are fully involved in considering the case for high speed services'.
A decision on electrification of the most heavily used parts of the Great Western and Midland main lines will be announced later this year, alongside decisions on the deployment of the trains being procured under the Intercity Express Programme.