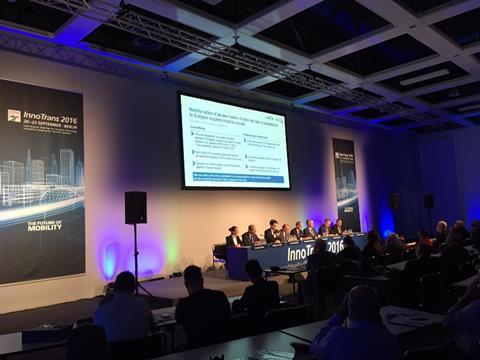 Attracting 2 950 exhibitors from 60 countries, the 11th InnoTrans trade fair is the largest yet, according to Dr Christian Göke, Chief Executive of organiser Messe Berlin GmbH. Speaking to Railway Gazette International in Berlin, he said around 130 000 trade visitors are expected to attend the four-day event which opens on September 20.
Göke said InnoTrans had been able to develop so much over the past 20 years thanks to a strong partnership with German and European industry associations such as VDB, VDV, ZVEI and UNIFE.
'The key to a successful trade fair is organic growth', he suggested, adding that exhibition space, exhibitor numbers and visitors needed to develop at a similar rate.
With more than 200 new companies seeking to exhibit for the first time at InnoTrans 2016, Messe Berlin has been forced to adopt some 'specific measures' to free up space, including transferring some support services off-site. That has allowed the fair to accommodate requests for an extra 6 000 m2, increasing the total exhibition space by 8% to 112 000 m2. Planning has already started for the construction of another exhibition hall, which Göke hopes will be ready in time for InnoTrans 2018.
As in previous years, demand has been strong for spaces on the 3 500 m of outdoor display tracks, with 123 vehicles to be shown this year. Göke reported that many firms had timed their research and development programmes to be able to launch new products and services at the show, with around 140 world premières to be unveiled this week.
According to Dr Ben Möbius, Managing Director of the German railway industry association VDB, this year will see a strong focus on digitisation, and the many ways in which IT can contribute to improving the efficiency and competitiveness of the rail sector. Citing examples ranging from automatic driving through passenger information systems to condition-based maintenance, he believed that the strong focus on Rail 4.0 would help the global competitiveness of German industry.