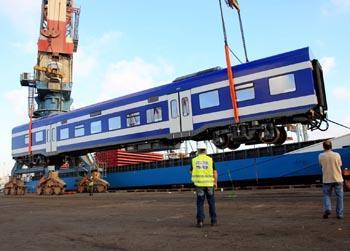 ISRAEL: On March 9 Siemens Mobility signed a €47m contract to supply Israel Railways with a further 31 Viaggio Light coaches, as a follow-on to the initial 2006 order for 87 cars which included options for a further 585. The latest cars will delivered from Wien in 2011 for use on the Tel Aviv - Rishon Le-Zion route.
The Viaggio Light low-floor cars are designed for operation at up to 160 km/h on regional and inter-city services in Israel. The latest order comprises 27 intermediate and four push-pull driving trailer cars. The intermediate vehicles have 2+2 facing seating for 82 passengers, a wheelchair space and an accessible toilet. The driving trailers have 27 passenger seats plus the cab and equipment compartment.
The first batch of coaches were delivered in 2008-09 and are used on services to Nahariyya, Modi'in and Be'er Sheva.