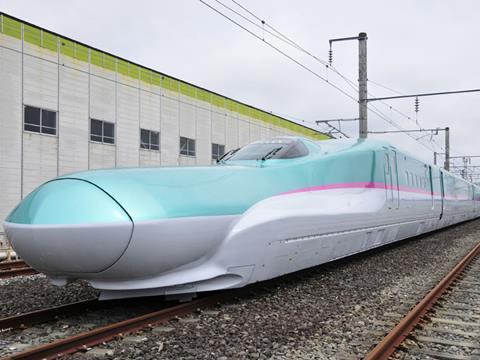 JAPAN: Little more than six weeks after the earthquake and tsunami struck northeast of Honshu on March 11, East Japan Railway was able to resume services on the whole of the Tohoku Shinkansen on April 29. Although a number of ground facilities had been damaged by the earthquake, these were rapidly restored thanks to the deployment of 8500 staff.
The railway was also able to reopen the Akita and Yamagata mini-shinkansen on the same date. However, the 300 km/h Series E5 sets intro­duced on Hayabusa services between Tokyo and Shin-Aomori just a week before the earthquake are currently running at a lower speed.
Several of JR East's 1 067 mm gauge routes in the Tohoku region were seriously damaged by the tsunami, including the Senseki Line serving the coastal districts east of Sendai. Nevertheless, the railway confirmed last month that it had been able to reinstate services over part of this line on April 19, and the remainder would be reopened during May.
Seizo Sato, General Manager of the railway's Electrical & Signal Network Department, told delegates to the Signalling & Train Control conference in København that the Atacs moving-block signalling system being piloted on the Senseki Line (RG 3.11 p43) had escaped with little damage, thanks to the minimal amount of lineside equipment. Other than a few balises and a bent radio mast, the equipment was still functional, and most onboard equipment survived except for one train that had been washed off the track.
Repairs are due to be completed this month, and shadow running will resume in July. Allowing two months for testing, Sato said Atacs would go live in September, just six months later than scheduled. After four weeks of revenue service operation, work would start to dismantle the conventional signalling, he explained.
The changeover to radio-based train control will simplify a project to relocate part of the line through Tagajo on viaduct, which is due to take place next year. After that, JR East expects to upgrade the Atacs system with additional functionality in the autumn of 2012.
Responding to a government call to cut energy consumption by 15%, JR East has agreed to run its thermal and hydro power stations at full capacity and sell on any spare energy. Tokyo suburban operators Tokyu, Keio and Tobu are thinning out their off-peak services and cutting air-conditioning loads, whilst Yokohama metro is switching all station lighting to LEDs.