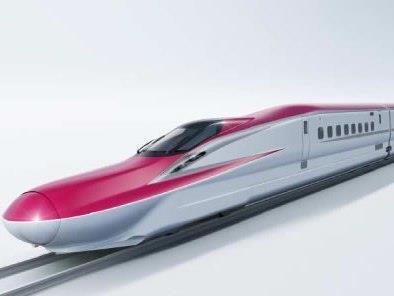 JAPAN: East Japan Railway confirmed in February that it expects to take delivery in July of its first pre-production Series E6 mini-shinkansen trainset, designed for 320 km/h operation on the Tohoku Shinkansen route. The train will undergo an extensive testing and commissioning programme before entering revenue service in March 2013
Like the Series E5 trains now being delivered, which are derived from the Fastech 360S experimental trainset, the Series E6 is derived from the small-profile Fastech 360Z. The seven-car trains will be phased in during March 2013, replacing all of the current six-car Series E3 trainsets used on Komachi services between Tokyo and Akita by March 2014.
The Series E6 are intended to run in multiple with the Series E5 sets between Tokyo and Morioka, in the same way as the Series E3s now run coupled to the Series E2-1000 sets used on Tohoku Shinkansen services to Hachinohe.
The increase from six to seven cars per set will allow the use of a longer nose whilst retaining the same seating capacity. The 22·8 m long end cars will have 13 m long noses compared to the 6 m noses used on Series E3. Each 148 m long trainset will have five motor and two trailer cars, accommodating 315 Standard and 23 Green Class passengers.
To enable smoother operation at high speed, the Series E6 sets will have active suspensions incorporating 1·5° of tilt. However, the maximum speed on the mini-shinkansen section between Morioka and Akita will remain at 130 km/h. The trains are expected to start running at 300 km/h in 2013, but the planned increase to 320 km/h from March 2014 will allow Tokyo –Akita journey times to be cut by between 10 and 15 min.
According to JR-East, the external styling of the Series E6 was overseen by industrial designer Ken Okuyama, and is intended to evoke images of the Namahage demons and kantō festival lanterns traditional in Akita Prefecture. The livery will be mainly white, with a crimson roof and silver stripes along the bodyside.
As with earlier mini-shinkansen trains, 2+2 seating will be provided in both Standard and Green class cars. Seat pitch will be 1 160 mm in Green class and 980 mm in standard class, as with the E3s. The new trains will offer the power outlets at all seats, and interior CCTV security cameras which are being introduced with Series E5.