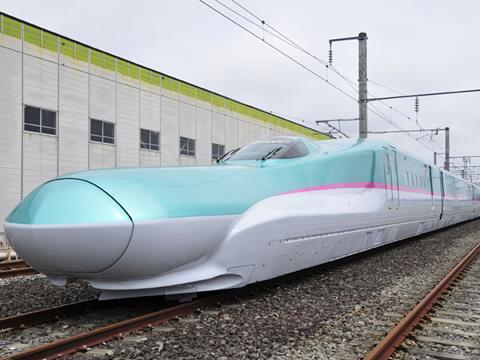 JAPAN: East Japan Railway has unveiled the pre-mass production Series E5 trainset for 320 km/h operation on the Tohoku Shinkansen. It will undergo performance and endurance tests later this year, ready for the series-build trains to enter service on the high speed line extension from Hachinohe to Shin-Aomori when it is completed in December 2010.
The Series E5 incorporates features developed using the two Fastech 360 experimental trainsets. These include the 15 m 'arrow-line' nose to minimise noise and micro-pressure waves as the train enters tunnels, bogie shrouds, smooth inter-car fairings, a low-noise pantograph, body tilting and full active suspension on all cars.
The eight motor and two trailer cars have aluminium bodies. According to JR East the colour of the upper body represents evergreen trees and the bottom white clouds, with a line of pink azalea in between.
Series E5 trains will be running at 320 km/h by the end of 2011, the highest speed in Japan, giving a Tokyo - Shin-Aomori journey time of 3 h 5 min.
Minoru Arai Executive Officer, Director, Technology Planning Department, and Director General, Research & Development Centre, JR East Group details the development of the Series E5 exclusively in the July 2009 issue of Railway Gazette International