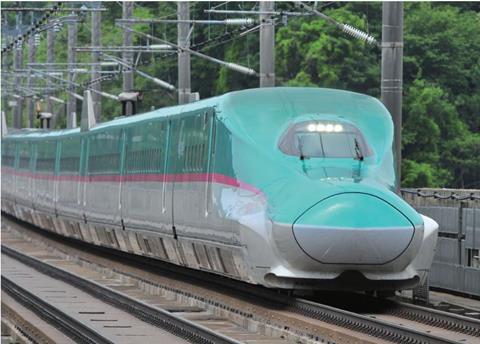 JAPAN: East Japan Railway is to raise the line speed limits on key sections of the Tohoku Shinkansen in order to make its train services between Tokyo and northeast Honshu more competitive with airlines.
Under the plans announced on October 6, the maximum speed on the northernmost 178·4 km between Morioka, Hachinohe and Shin-Aomori is to be increased from the present 260 km/h to 320 km/h, with a view to shaving 5 min off current journey times.
JR East confirmed that work was already getting underway, with completion envisaged in about seven years. Most of this relates to noise protection measures around the many double-track tunnels on this part of the line, rather than track or catenary upgrading. Operating at higher speeds results in increased pressure waves in the tunnels and sonic boom effects at the portals, as well as increased noise from passing trains.
New sound absorbing walls are to be built on 1·3 km of route, while existing walls are to be raised on a further 3·6 route-km. Hoods at the 24 tunnel portals designed to diffuse the pressure waves and mitigate the sonic boom are to be extended.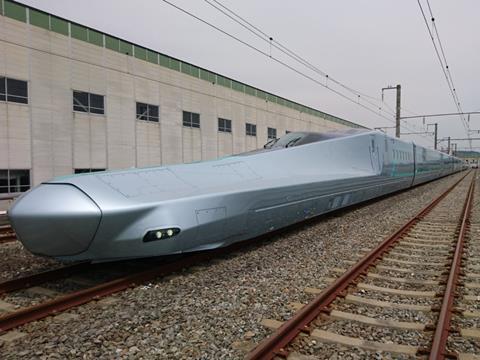 The project is being undertaken alongside JR East's Change 2027 programme, under which the railway is looking to develop a new generation of trains for commercial operation at 360 km/h. Its ALFA-X test train attained its design speed of 400 km/h on December 14 2019, and made its first trip through the Seikan tunnel to Shin-Hakodate-Hokuto on February 12 2020. ALFA-X is expected to inform the development of a new fleet for use between Tokyo, Shin-Aomori and Sapporo from the 2030s, in succession to the current 320 km/h Series E5 and H5 trains.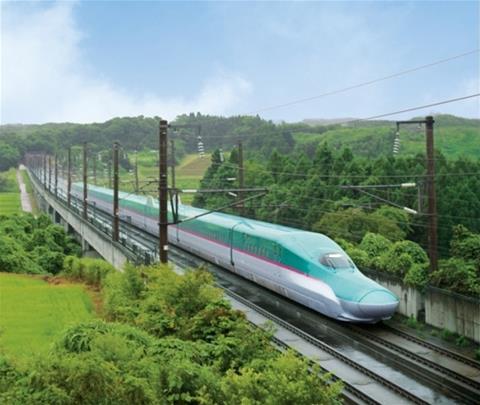 JR East is also looking to raise speeds on the busy double track section from Ueno to Omiya, which is shared by services on the Tohoku, Joetsu and Hokuriku shinkansen. This is to be uprated from 110 to 130 km/h, although speeds on the 3·6 km cross-city section between Ueno and Tokyo Central will remain limited to 110 km/h.
The Ueno – Omiya improvement will bring a journey time saving of 1 min, but more importantly will increase in capacity without major infrastructure investment. This is intended to pave the way for an increase in service frequency on the Hokuriku Shinkansen after that line is extended from Kanazawa to Tsuruga in 2022. Infrastructure modifications on the largely elevated section include the installation of higher noise barriers along the concrete viaduct. Work on this project is due to be completed by early 2021, enabling the introduction of accelerated schedules next year.