SOUTH KOREA: With traffic climbing steeply in recent years, Korail is focusing on further expansion of its passenger business and seeking ways to strengthen its freight operations in a competitive global market.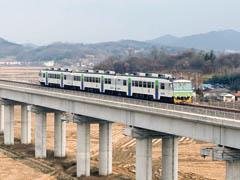 Customer service must remain the driving focus for Korea's national rail oper­ator, according to Kang Kyung-Ho, who took over as President & CEO of Korail in June. As President of Seoul Metro between April 2003 and January 2007, and former Chairman of the UITP's Asia-Pacific region, Kang brings considerable experience of the passenger rail business to his new role.
Korail was established as a public corporation on January 1 2005, as part of the reform process that saw the former Korean National Railway split into separate operating and infrastructure companies. After three years, the company is working to re-position itself 'as a sustainable company seeking social responsibility as well as economic growth'. Korail recorded increases in both passenger and freight traffic during 2007, which together with substantial income from property development projects allowed the operator to declare its first profit of 133bn won. Kang is confident that Korail is on course to play 'an increasing role in the national and international transport market' in the years ahead.
After half a century as a 'virtual island', South Korea is anxious to be reconnected to the emerging Trans-Asian rail network, and the Eurasian 'Iron Silk Road'. The ceremonial operation of two trains between South and North Korea last year was seen as a major step forward, and since Dec­ember 2007 daily freight trains have been serving the Gaesong industrial complex in the north. Korail is looking at the possibility of launching commuter services to take workers to and from Gaesong, but a recent cooling of relations means it is unlikely that the planned through passenger train from Seoul to take the combined Korean team to the Olympic Games in Beijing will be able to operate.
Having set out its current strategy in the 'Power Korail 2010' development plan, the company is working on its 'Future Korail' vision for 2015. This envisages the railway being transforming into a 'comprehensive transportation group' operating both domestic and international services. Kang wants to encourage innovation, with particular focus on environmental initiatives aimed at 'enhancing the quality of life for the whole nation'. He has set three clear objectives for the business:
customer focus;
creating value;
trustworthy management.
To this end he envisages further decentralisation of management responsibility to the operating business units, generating profits for future investment, and maximising the efficient use of resources.
Passenger traffic booms
Since the launch of KTX high speed services in April 2004, Korail has recorded a steady increase in traffic, with annual passenger-km on KTX services jumping by almost 11% between 2005 and 2007. Long-distance and regional passenger services are now carrying more than 305 000 passengers per day.
The 420 km Gyeongbu corridor linking Seoul and Busan serves South Korea's seven largest cities. Completion of the first phase of the high speed line between Seoul and Daegu cut the end-to-end journey time from more than 4 h to just 2 h 40 min, triggering a 43% jump in the average number of daily passengers. 'The whole nation has been encompassed in a quarter-day life zone', says Kang, bringing significant changes in lifestyle and travel habits for many people. It is now feasible to travel from one end of the country to the other and back in one day and still have time for business.
According to the General Manager of Korail's International Co-operation Team Ahn Byeong-Ho, KTX now accounts for almost 70% of Korail's long-distance passenger revenues. The operator is currently focusing on completion of the second phase of the new line from Daegu to Gyeongju and Busan, which is expected to open for revenue service at the end of 2010. This will cut another 30 min off the fastest journey times, and should trigger a further increase in rail's market share.
Following the launch of high speed services, Korail has developed a three-tier structure of long-distance passenger services. It now runs 181 KTX trains a day, with limited-stop and semi-fast services on both the Gyeongbu corridor and the Honam line running southwest from Daejeon to Mokpo. The Saemaul diesel trainsets operate second-tier ser-vices on the conventional main lines, as well as through trains off the trunk routes to cities such as Pohang. Long-distance stopping trains are now branded Mugunghwa, and provide through services to Seoul from most intermediate stations.
Korail has ordered a fleet of 10 KTX-II trainsets from Rotem to work the Honam line and the Jeolla line between Seoul, Iksan and Yeosu; the first of these 10-car sets is expected to enter service next year. A further build of nine sets will arrive at the end of 2010, ready to handle an anticipated surge of traffic when the Korea 2012 International Expo is held in Yeosu.
With infrastructure authority KR currently working to electrify more of the rail network, Korail expects to take delivery of substantial fleets of new electric locos and EMUs for its main line and regional services over the next few years (Table I).
Metropolitan expansion
The Metropolitan Transit Business is Korail's busiest sector, responsible for commuter services in Seoul and the surrounding metropolitan area. As well as its own lines serving the city, Korail is responsible for the suburban lines which extend metro lines 1, 3 and 4 beyond the city boundaries. At present MTB runs eight routes totalling 294·1 km (Table II), carrying an average of 2·45 million passengers on more than 2 000 trains per day.
Last year saw the introduction of limited-stop services on three of the longer routes, cutting journey times by up to 30 min compared to the regular all-stations services. Integrated ticketing is provided between suburban trains, bus services and the metro networks in both Seoul and Incheon, and 79% of passengers now use the common smart cards.
As the urban area continues to expand, infrastructure authority KR is upgrading existing railways and building new lines to serve the residential and commercial developments. The MTB network will expand by 37·5 km this year with the opening of the Jungan and Janhang routes. Completion of several other projects will expand the network to 480 km by 2010, and further new line proposals could see the suburban rail network exceeding 725 route-km by 2015.
To operate the expanding network, Korail expects to purchase more than 1 400 additional EMU cars for its metropolitan operations between now and 2014.
Focus on freight growth
Korail's freight and logistics business is currently handling around 45 million tonnes a year, serving 212 terminals around the country. Whilst some wagonload traffic remains, the majority of the business now operates in block trains conveying commodities such as coal, oil, cement and minerals. The elimination of short-distance freight trains and reduced shunting cut operating costs by 4·5bn won in 2007.
Container traffic is becoming increasingly important, with over 100 million TEUs handled in both 2006 and 2007. Container block trains were introduced in 2004, and now account for 19% of all container traffic — an average of 14 trains a day during 2007 generated revenues of 16·4bn won. Rail-sea-rail services from Korea to Japan and Russia are also growing, with a substantial proportion of the containers passing through Busan now being shipped to Nakhodka for onward movement over the Trans-Siberian landbridge.
In recent years Korail has been moving into the logistics sector, establishing a hub network in 2004, and applying for a licence to become a 'comprehensive logistics business' by 2011. Traffic is to be concentrated at 133 terminals by 2010, and a new CFS warehouse has been opened at the Busanjin container terminal to improve the competitiveness of LCL activities.
At one stage it looked as if Korail would not be able to reap the benefits of its development strategy. The South Korean government announced earlier this year that it planned to split the train operating business into separate passenger and freight companies, with an eye to allowing the freight unit more scope to develop international alliances for Eurasian landbridge traffic. But after looking at the practical implications, the government cancelled the idea.
Nevertheless, the government is still keen to see Korail becoming more active in the Eurasian freight market. One of the biggest issues to be addressed will be restoration of the Trans-Korean Railway connecting South Korea with the Trans-Siberian corridor. President Lee Myung-Bak took the opportunity to discuss this with his Russian counterpart Dmitri Medvedev when he attended the G8 summit in Japan last month.
Business development
Seeing limited scope to generate higher profits through train operations, Korail has embarked on a diversification strategy, which is being stepped up even further by Kang since his appointment. Embracing acivities such as property development, tourism, facilities maintenance and parking management, the strategy is now expected to boost non-core income to around 1 200bn won in 2011, contributing 21% of revenue compared to 11% in 2007 and just 6·8% in 2005.
The company has embarked on seven major property development schemes that are expected to generate revenues of between 2 000bn and 3 000bn won a year until 2010.
The biggest property scheme is at Yongsan station in Seoul, where reconstruction of the station to form an urban transport interchange forms part of a 'landmark' urban redevelopment in association with Seoul Metropolitan City, creating an 'inter-national high-tech information and finance hub'. In December 2007 Korail established Dream Hub PFV and Yongsan Development Co to drive the project forward. As well as a 620 m high tower there will be 12 office blocks, eight residential blocks with 2 200 homes and a six-storey commercial and retail complex. The total project is expected to cost more than 28 000bn won, which will largely be provided by private sector partners. Full authorisation is expected in 2010, with construction starting in 2012 for completion by 2016.
Amongst developments elsewhere, two office blocks taking shape on railway land alongside Daejeon station are due for completion in 2009. One will be used by Korail, and the other by KR. A commercial development at Songnae station was completed in December 2006.
Other activities include developing Korail's international consultancy business, including a recent contract to advise on rolling stock maintenance in Malaysia. Korail is also advising Texas High Speed Rail & Transport Corp and the government of Brazil on the construction and oper­ation of high speed lines.
Korail rolling stock investment plans 2009-14
Year
Electric locomotives
High speed trainsets
Regional EMUs
Metropolitan EMUs
2009
28
6 x 10-car (KTX-II)
8 x 4-car
36 cars
2010
–
13 x 10-car (KTX-II)
–
112 cars
2011
2
50 cars
21 x 6-car
204 cars
2012
61
160 cars
38 x 6-car
84 cars
2013
59
70 cars
102 cars (18 sets)
204 cars
2014
9
40 cars
5 x 6-car
324 cars
2015
–
40 cars
–
448 cars
Total
159
550 cars (55 sets)
518 cars
1?412 cars
Table II. Metropolitan Transit lines in the Seoul area
Line
Route
Length km
Stations
Metro
Gyeongbu
Seoul – Chonan
96·6
36
Line 1
Shuttle
Siheung – Gwangmyeong
4·7
1
Gyeongin
Guro – Incheon
27·0
20
Line 1
Gyeongwon
Cheongnyangni – Soyosan
42·9
23
Line 1
Central
Yongsan – Paldang
34·8
16
Ansan
Gyumjeong – Oido
26·0
13
Line 4
Gwacheon
Geuymjeong – Namtaeryeong
14·4
8
Bundang
Seolleung – Boejong
27·7
19
Ilsan
Jiichuk – Daehwa
29·2
10
Line 3
CAPTION: Upgrading and electrification of the coastal route between Chonan and Janghang has enabled Korail to improve its inter-city and regional passenger operations; a Saemaul diesel unit cascaded from the Seoul – Busan corridor leaves Asan on an inter-city service.
CAPTION: Long-distance passenger traffic has risen sharply since KTX services were launched in 2004. A Seoul-bound service calls at Daejeon, where two new office towers for KR and Korail are due to be completed in 2009.
CAPTION: Korail expects to generate significant revenues from its property development portfolio, including this landmark urban redevelopment around Yongsan station in Seoul which is due to be built in 2012-16.