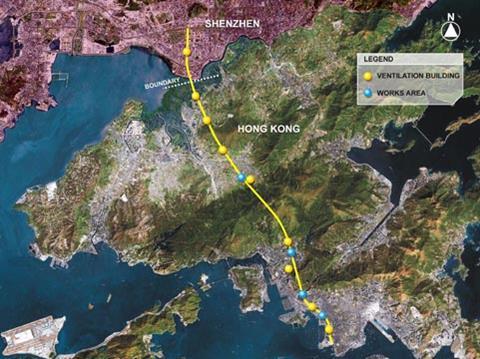 HONG KONG: On April 22 the government announced the go-ahead for construction of the HK$39·5bn Express Rail Link between Kowloon and the border with the mainland. The link is expected to open in 2015. It will form part of a new high speed line to Shenzhen and Guangzhou, offering a 48 min journey time between Kowloon and Guangzhou at an average speed of 200 km/h.
With a nominal capacity of 10 trains/h, the 26 km line will run entirely in tunnel from a terminus in the West Kowloon Cultural District, which will be connec­ted to MTR's Kowloon Southern Link now under construction and the Airport Railway's Kowloon station. Secretary for Transport & Housing Eva Cheng said the government will fund construction of the line and then lease it to MTR Corp, in a similar model to the Sha Tin - Central Line. MTR is expected to pay HK$28·1bn for the 50-year operating concession plus 10% of its net profit. The government expects the line to be carrying 100 000 passengers a day by 2020.
Beyond the border, the route will serve intermediate stations at Futian, Longhua and Humen, and at Shibi in Guangzhou where it will connect with the Passenger Dedicated Line to Wuhan now under construction. Completion of a north-south high speed corridor is expected to cut Hong Kong - Beijing journey times to around 10 h.