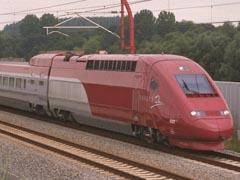 EUROPE: 'High speed trains can be and have been a catalyst for economic and social regeneration as well as bringing the people of Europe closer together — and quickly', pointed out James Brathwaite, Chairman of the South East England Development Agency, addressing a conference in London to mark the conclusion of two EU-funded projects aimed at improving local access to high speed rail services.
HSTintegration and HSTconnect had a budget of €50m, sup­ported by the European Regional Dev­elopment Fund through the Inter­reg IIIB programme. Both were aimed at adding value to the inter-city and high speed passenger networks in northern Germany, the Netherlands, Belgium, and southeast England through a series of local initiatives.
Led by Seeda, the six-year prog­ramme involved 27 partners from the four countries. A diverse range of enhancement projects received funding, including the rebuilding of Aachen station, to which the partnership contributed €0·97m. It was also involved in the launch of connecting services between Maastricht and Liège for Thalys passengers. HST­integration raised €3m in ERDF funding for development of bus feeder routes to Ebbsfleet International station on the UK's High Speed 1 (RG 11.07 p699).
Seeda's Head of Infrastructure & Planning Detlef Golletz acknowledged that the projects only required 'a modest amount of cash', but said they had the potential to act as catalysts to trigger much larger investments, not least by encouraging disparate bodies to work together more effectively, often across national borders.
Golletz reaffirmed his belief that the two projects could pave the way for more substantial inter-regional rail investment in the years to come. In particular, he hoped to see spare capacity through the Channel Tunnel used by 'Trans-Manche Metro' regional services connecting southern England and Nord Pas-de-Calais. 'Just because we have a bit of water in between us, we don't see why that should be an obstacle'.