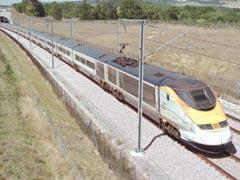 UK: Transport Secretary Lord Adonis published the government's high speed rail strategy on March 11, setting out details of a planned 400 km/h high speed railway between London and Birmingham which could open by 2026 as the first part of a Y-shaped network serving Leeds and Manchester.
The route developed in detail by High Speed Two Ltd starts at London Euston station, which will be rebuilt, then runs in tunnel to an interchange with the future Crossrail line at Old Oak Common west of Paddington station. This interchange is intended to relieve pressure on the London Underground at Euston, and provide fast access to Canary Wharf and Heathrow Airport.
HS2 has found the business case for serving Heathrow to be weak, not helped by the dispersed nature of the airport. Former Transport Secretary Lord Mawhinney is to produce a report on options for airport access within three months.
From the Crossrail interchange, the high speed line will follow the existing Chiltern railway corridor out of London. From West Ruislip it would pass over the M25 on viaduct, tunnel under Amersham and follow the A413 past Wendover. North of the Chilterns the route would be mainly on the surface along the former Great Central corridor, with one tunnel near Cubbington.
There will be a parkway station near Birmingham International Airport, and the line will enter Birmingham from the east along existing rail corridors to terminate at Curzon Street. A connection for trains to the north will diverge at a junction east of Birmingham and continue to join the West Coast Main Line near Lichfield.
The cost of the first 190 km to Birmingham is put at £15·8 to £17·4bn, 'broadly similar to Crossrail'. Adonis believes this will be fundable, and accepts the need for funding to be government-led, though he sees opportunities for PPPs relating to the stations. The average annual expenditure during construction would be £2bn, with the highest spend in a single year totalling £3·9bn.
The London - Birmingham route will eventually form part of a 540 km Y-shaped network, splitting near Birmingham to serve Manchester on one branch and the East Midlands, Sheffield and Leeds on the other. Trains would join the WCML close to Preston to reach Glasgow and Edinburgh, and the East Coast Main Line near York to serve Newcastle. The cost per km would be much lower beyond Birmingham, with the total cost put at £30bn.
A mixed fleet of trains suitable for running at least 360 km/h is proposed, with European-sized rolling stock for London - Birmingham services and UK-profile trains for through-running onto conventional lines. The new line will not carry freight, which will instead make use of the capacity released elsewhere.
Legal processes and consultation are unlikely to be completed before 2017. Construction of the London - Birmingham section would take 6 ½ years, and commissioning a further two years.