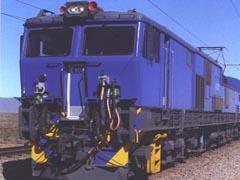 SOUTH AFRICA: The increasingly busy Orex heavy haul iron ore railway between Sishen and Saldanha may gain a second source of traffic in the coming years. Transnet Freight Rail is in discussion with a consortium of mining companies about using the route to export manganese through the deep-water port at Saldanha Bay, as an alternative to developing further port capacity on the eastern seaboard.
The mining groups (BHP Billiton, African Rainbow Minerals and Assore) would like to boost exports from the Kalahari manganese field from the current five million tonnes a year to around 12 million tonnes. Most of the traffic currently moves through the harbour at Port Elizabeth, which has never reached its theoretical capacity of 6 million tonnes a year as it is constrained by the land available and the depth of the shipping channel.
Transnet is currently looking at various options, which would all require 'significant investment', according to Acting CEO Chris Wells, who is looking at various models for possible private-sector participation.
One option is to develop the eastern corridor leading to Port Elizabeth, Ngqura and Durban. But the mining groups would prefer to use the Sishen - Saldanha line, as they believe a dedicated heavy haul corridor would offer greater operating efficiencies than a route shared with general freight traffic.
In the six months to 30 September, export traffic over the Orex line reached 21·1 million tonnes, a 32·7% increase on the same period last year. At the end of July TFR achieved 100% of theoretical capacity, moving a record 955800 tonnes in one week, and on August 10 it marked the billionth gross tonne to traverse the line since it opened in May 1976.
The Sishen - Saldanha route is currently being upgraded to raise capacity from 47 million to 60 million tonnes a year (RG 6.07 p375), but Wells is concerned that significant investment would be needed to expand any further. 'To move to 80 million tonnes, which the iron ore industry wants, would require massive investment in new infrastructure and rolling stock', he explained. However, he suggests that a 90 million tonne corridor, handling 78 million tonnes of iron ore and 12 million tonnes of manganese, 'looks full of potential'.
Following consultation with the manganese exporters, Transnet hopes to make a decision on its preferred option 'within the next four to five months'.