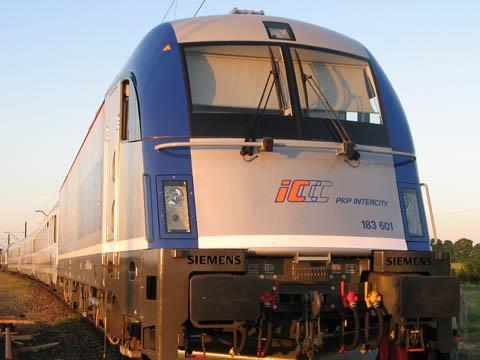 POLAND: Siemens has claimed a Polish speed record for a locomotive-hauled train, with a pair of Eurosprinter locomotives reaching 235 km/h between Psary and Góra Wlodowska during trials on the CMK fast line on May 29.
The test train comprised two ES64U4 multi-system electric locomotives which Siemens has sent to Poland to assist with type approval, plus three PKP Intercity coaches.
The previous Polish speed record for a locomotive-hauled train was 222 km/h, set by an Adtranz EU11 in 1999. However an Italian ETR460 Pendolino reached 250·1 km/h on the CMK line in May 1994.
PKP Intercity placed a €44·5m order for 10 ES64U4 locomotives in August 2008. To be branded Husarz, the locomotives for Poland are being manufactured at Siemens' München plant and ÖBB Technische Services' Linz plant for delivery from spring 2010. The contract includes maintenance at a PKP Intercity depot in Warszawa.
The locomotives are designed for a service speed of 200 km/h, and will be used on EuroCity international services from Warszawa to Berlin, Prague and Wien.