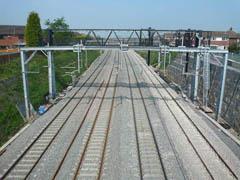 The Slovenian government is introducing legislation to restructure the national railway as a holding company, Holding Slovenske Zeleznice, with passenger, freight and infrastructure divisions. Construction projects will be undertaken by either state-owned engineering company DDC or a new organisation.
Ghana is to use US$4bn of a US$10·4bn infrastructure development loan from Export-Import Bank of China to extend the Takoradi – Kumasi railway to Paga on the border with Burkina Faso.
British American Rail Services has acquired Hanson Traction, which leases locomotives and provides engineering and maintenance services in the UK.
Trinidad & Tobago's Minister of Finance confirmed the scrapping of the Rapid Rail project in September. Studies had cost TT$565m, but 'no viable economic plan has emerged' and the total cost is put at TT$22·5bn. In April 2008 the Trinitrain consortium of Bouygues Construction, Alstom Transport and RATP Développement had been selected to build and operate two lines totalling 104 km (RG 5.08 p271).
Network Rail has approved a £53m project for remodelling Gatwick Airport station and building a seventh platform by the end of 2013, eliminating a capacity bottleneck on the London – Brighton line.
Czech Transport Minister Vit Barta confirmed on September 14 that he had lifted his blockade on new railway construction projects following agreement with contractors on price cuts of around 5%.
The Russian government has approved plans for RZD to sell a 35% stake less two shares in its intermodal subsidiary TransContainer. An IPO is to be launched before the end of the year, valued at around US$500m.
In September the German government signed a €400m agreement to fund an extra pair of tracks on the 8·5 km between Haltingen and Weil am Rhein and upgrading of the Basel Badischer station area in Switzerland. This is part of a €5·7bn project to increase speeds and capacity on the 182 km Karlsruhe – Basel approach to the Gotthard corridor by 2020.