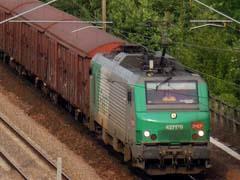 FRANCE: Plans for improving rail connections to and from Haute-Normandie were announced by Transport Minister Dominique Bussereau during a visit to Rouen on October 15.
The long-term aim is to develop a new high speed line linking Paris, Mantes, Rouen and Le Havre, as announced by President Sarkozy on April 29. Bussereau has established a working group to take this project forward, headed by Jean-Pierre Duport, with the Presidents of the three regions (Haute-Normandie, Basse-Normandie and Ile-de-France), RFF President Hubert du Mesnil and other local authority representatives.
Bussereau has set an ambitious timetable for the project, and commissioned RFF to undertake an initial feasibility study by the end of this year, with the aim of launching a public consultation in 2011. Target journey times from Paris are to Rouen in 45 min or less, Le Havre in 1 h 15 min, Caen in 1 h 30 min and Cherbourg in 2 h 30 min.
Meanwhile, a package of measures is being put together to improve the existing rail network in the shorter term. Extensive renewal work costing €240m is already in progress between La Défense, Poissy and Mantes-la-Jolie, improving performance and raising capacity. Electrification of the route to Caen is also envisaged as part of the Grenelle de l'Environment proposals.
Further enhancements are envisaged as part of the €7bn national rail freight expansion programme announced on September 16. Upgrading of the Serqueux – Gisors route to form a priority freight corridor between Paris and Le Havre is to be completed by 2012, and RFF has been instructed to allocate guaranteed 'high quality' paths for freight trains.
Bussereau said that further work would be undertaken to improve rail freight facilities in the ports at both Le Havre and Rouen. He expects to announce shortly the creation of a local freight train operator at Le Havre under the Proximité programme, with another to be established at Rouen next year.