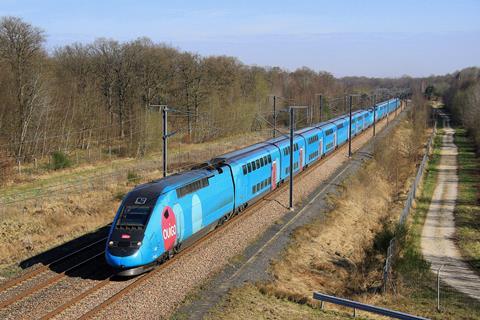 FRANCE: SNCF will launch Ouigo low-cost high speed services between the city centres of Paris and Lyon in June 2020. Until now Ouigo passengers between the two cities have been obliged to use trains that either start or finish outside the city centre of Paris or Lyon.
From June 1 there will be three Ouigo trains a day in each direction between Paris Gare de Lyon and Lyon Perrache, with trains also calling at Lyon Part-Dieu. Southbound services will leave at 06.26, 12.30 and 18.35 with a journey time of 1 h 56 min to Part-Dieu and 2 h 9 min to Perrache. Return workings will depart Perrache at 09.17, 15.35 and 21.21. Reservations will open in March for fares starting at €16 per journey.
In addition, SNCF will run three return services a day between Marne-la-Vallée and Lyon Saint-Exupéry and Lyon Part-Dieu, and two round trips a day between Roissy-Charles-De-Gaulle Airport and Lyon Saint-Exupéry and Lyon Part-Dieu.
SNCF also announced additional Ouigo services in 2020 from Paris Gare de Lyon to and from Nîmes-Pont du Gard and Montpellier-Sud de France, the station on the Nîmes – Montpellier high speed bypass, and to Nîmes and Montpellier Saint-Roch, the city centre station.
The operator says that in 2020 Ouigo will account for 'nearly 20% of high speed traffic', with 24·8 million journeys expected and 65 daily services. Speaking to local media in early October, Voyages SNCF Managing Director Rachel Picard said the extra Paris – Lyon services could add 1·5 million passengers/year to Ouigo patronage.