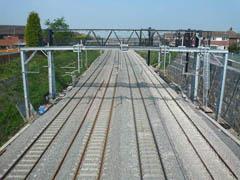 Transport Minister Michael Henry has announced a three-year project to revive the moribund rail network in Jamaica, starting with the main lines linking Kingston, Spanish Town and Montego Bay. A loan from the Chinese government is expected to cover 85% of the US$354m cost, with Chinese manufacturers to supply five locos, 45 coaches and 68 wagons.
India's Research Designs & Standards Organisation confirmed on June 18 that it is to test electrically-hauled double-stack trains on the 25 km Tomca - Jakhapura section of East Coast Railway in Orissa, as part of development work for the Dedicated Freight Corridors (RG 6.08 p383). The line will be temporarily electrified with the contact wires 7·5 m above rail level.
The US$383m investment programme at Ferromex in 2008-09 includes the construction of new terminals at Chihuahua and Ciudad Juárez and other projects to handle more intermodal and automotive traffic. In 2007 the Mexican freight operator invested $293m in 250 new locomotives, taking its fleet to 584 units.
Swiss Transport Minister Moritz Leuenberger revealed at the end of May that he would be looking at the possibility of harnessing private capital for Swiss Federal Railways, either through some form of flotation or another way of involving private investors, although the government insists it has no firm plans.
China's Ministry of Railways signed an agreement with Sichuan province at the end of May for joint financing of a new line connecting the earthquake-damaged town of Dujiangyan with the Chengdu metro network; construction is expected to start within a year.
As well as restoring freight service from San José to Limón and Caldera (RG 6.08 p361), Incofer is proposing to revive passenger services over the 9·5 km San José - Heredia route to cut congestion in the capital of Costa Rica and save fuel. The national railway has requested 2bn colones in additional funding from the government which would be used to repair track and structures on the route to Heredia.
Translink and CIE are developing the business case for a €500m upgrading of the 183 km Belfast - Dublin line for higher speeds, although Translink says that they are still some way from having concrete proposals. It is 11 years since the Class 201 locos and De Dietrich trainsets were introduced by NIR and Iarnród Éireann as part of a previous upgrade that cut the journey time for the Enterprise services between the two cities to 2 h 10 min.
The government of Indonesia announced on May 16 that new tenders will be called for construction of a 30 km rail link from Jakarta to Soekarno-Hatta International Airport, at an estimated cost of US$239m. The project is being managed jointly by the airport authority and state railway PT Kereta Api.
On May 28 Ottawa City Council approved a wide-ranging mass transit plan costing up to C$8bn, subject to final approval next spring and contributions from the federal and provincial governments. The C$4bn Phase 1 envisages an east-west light rail line from Blair Road to Baseline Road opening in 2016, incorporating existing busways and a tunnel under the city centre. A second line would run north from Bowesville Road to meet Line 1 at LeBreton Flats.
A rival scheme to build a privately-financed metro for Córdoba in Argentina has been developed by Metrovías which operates the Buenos Aires network. In a place of a two-line system costing US$1·1bn (RG 4.08 p210), Metrovías is proposing a three-line network 18·6 km in length with 25 stations, with an estimated cost of $1·25bn.