LOCOMOTIVES: As well as Europe's changing freight market, Alstom has China, India and Russia in its sights as targets for the latest addition to its product range. Laurent Charlier reports from Belfort.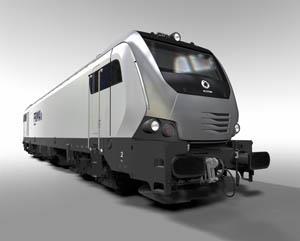 Unveiled at Belfort on May 20, the Prima II locomotive concept builds on Alstom's successful Prima I family and a number of developments tested on the Prima 6000 prototype. But as the embodiment of the company's new objective for the locomotive market, it makes greater use of modular design to shorten delivery times.
Faced with strong competition from Bombardier's Traxx family in the European market, Alstom has a clear strategy. 'We want to re-enter the locomotive market by changing gear', said Locomotive Platform Director Jean-Marc Tessier. 'We want to sit down with our customers, and promote our product'. Tessier has travelled to Finland to present Prima II to national operator VR Ltd which is looking to renew its locomotive fleet.
Although the first locomotives will be built to the standard 1 435 mm gauge, the Prima II has been designed with broader gauges in mind. Outside Europe, Alstom sees its marketing strategy as being targeted at China, India and the 1 520 mm gauge railways of the former Soviet Union.
'Alstom has had its difficulties, but we are now working at a much faster pace', said Tessier. Proof of this is the fact that investment in the Locomotives business has been increased from an annual level of €1m before 2006 to reach €3m on production facilities alone in 2008-09, accompanied by spending of between €2m and €9m on research and development.
Morocco orders first
Like its AGV high speed train (RG 3.08 p146), Alstom has sold the first Prima II straight off the drawing board. But in contrast to previous locomotive designs, the first customer is ONCF of Morocco rather than Alstom's traditional domestic client SNCF. A €75m contract for the supply of 20 locomotives was placed in November 2007. Designed to handle 15-car passenger trains at speeds up to 160 km/h, the locomotives will also be able to haul freight trains grossing up to 2 200 tonnes.
The first unit for ONCF is due to be rolled out in July 2009. Before that, during the spring and early summer of next year three European demonstrators will emerge, all capable of operating under four different voltages but equipped for different signalling and safety systems. From mid-2010 onwards, acceptance trials will be conducted in various countries on the basis of the European corridors for which the locomotives have been conceived. The precise timetable has yet to be established, but Germany, Belgium, the Netherlands and France have already been mentioned.
Alongside its new modular platform, the Prima I still remains in the Alstom catalogue and some potential customers are showing interest in a hybrid incorporating features of both versions. Alstom says it is listening to its clients and does not rule anything out. A diesel version of the Prima II is also being planned for the longer term.
Standard modular platform
The flexible, modular concept of the Prima II design is intended to allow Alstom to provide its customers with a locomotive adapted to its specific requirements. This will be achieved by combining various options, whilst using standardised subsystems to help to keep the cost down. Alstom is now following a 'corridor' approach, with signalling and safety systems installed according to operational requirements. The same applies to the traction package, which can be tailored to fit the necessary supply voltages.
Modular design means that a locomotive could be reconfigured to meet changing requirements over the course of a 30 to 40-year working life. A leasing company, for example, might wish to acquire a wide variety of locomotive types in order to respond quickly to the needs of potential operators. An initial requirement for 25 kV and 15 kV AC operation could be met by installing the appropriate traction equipment, but with the leasing market changing constantly, 3 kV and 1·5 kV DC capability might be required at a later date. This would be possible using the Prima II concept.
The first Prima II locomotives ordered by ONCF will be fitted with 3 kV DC traction equipment, but designed for a 25 kV capability when the Moroccan national operator begins to adopt this voltage in its future electrification schemes. As delivered, the locomotives will be fitted with the necessary converters for 3 kV DC operation, but with provision for the installation of a transformer at a later date.
The modular Prima II platform is also designed to accommodate other operator-specific requirements. The cab can accept the standardised EU Driver's Desk now under development, with central, left- or right-hand driving positions, as well as the fire-prevention and maintenance management systems required by different operators. Prima II is designed to operate across a wide temperature range from -40°C to 50°C, and can also be equipped for remote control.
Building on proven products
Development of the new platform has built on the success of existing designs such as the Prima I electric locomotives delivered to SNCF and Chinese Railways. Prima II inherits the mechanical equipment of its predecessor, combined with the traction package of the Prima 6000 prototype and several enhancements to ensure a more modular, standardised product platform.
The four-voltage Prima 6000 enabled Alstom to perfect a new traction package incorporating 6·5 kV IGBT inverters, which under 3 kV DC operation are capable of receiving power via a 3 kV bus rather than 1·8 kV. The supply voltage does not have to be reduced, providing a greater power output. The Prima II is rated at between 4·2 MW and 6·4 MW, depending on customer requirements and the number of supply voltages.
Whereas the Prima I was equipped with a single drawbar connecting the bogie to the locomotive body for freight operation up to 140 km/h, with provision to add a second for speeds up to 200 km/h, all versions of the Prima II will be equipped with double drawbars. The interchangeability of 140 km/h and 200 km/h bogies will be tested using the Prima 6000 prototype during three weeks of trials scheduled to take place this August in conjunction with French railway testing agency AEF.
Supplied for the SNCF BB 436000, SNCB Class 13 and CFL Class 3000 designs, Alstom's 200 km/h bogie sees regular operation at this speed on high speed infrastructure between Leuven and Ans in Belgium, and has been proven at speeds up to 220 km/h.
The Prima II bodyshell incorporates the crashworthiness provisions of Prima I. The overhang has been reduced by increasing the distance between bogie centres to mirror the dimensions of the BB 436000 design.
CAPTION: Alstom is currently delivering Prima electric locos for several customers, including leasing company CB Rail (left) and SNCF's Transilien suburban services (right).
CAPTION: The Prima II design features a more streamlined bodyshell than the current Prima I family.
Prima II in profile
Wheel arrangement Bo-Bo Co-Co
Weight, tonnes 86 to 90 129 to 135
Axleload tonnes 21·5 to 22·5 21·5 to 22·5
Starting tractive effort kN 320 Up to 550
Rating, kW Up to 6 400 Up to 9 600
Maximum speed, km/h 140 (freight) 120 (freight)
200 (passenger)