Poland was the largest of the countries to join the European Union on May 1, and the possibility of the huge rail freight business being privatised attracted much interest. Privatisation is off the agenda for the moment, but Marek Rabsztyn and Jan Raczynski find that more than 20 new operators are already competing for PKP Cargo's traffic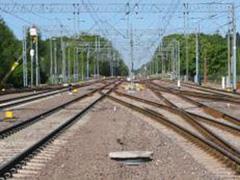 WHEN Polish State Railways was broken up in 2001, the restructuring process culminated in the establishment of six different operators (RG 8.01 p536). An infrastructure management company, PKP PLK SA, was also set up, and this started trading on October 1 2001. At that time privatisation was in the air, and interest centred on the potentially lucrative national freight operator, PKP Cargo SA, whose traditional business was hauling coal.
With Poland now a member of the European Union, the business environment is changing, and competition is already affecting PKP Cargo. Coal accounts for almost 50% of total traffic, and some of this has already been lost to newly-established private-sector companies using open access rights.
In 2003 PKP Cargo carried 155·7 million tonnes of freight, the lowest total for some years. In fact, the volume had been falling since the early 1990s - in 2002 the company hauled 159·2 million tonnes of freight, down from 162·5 million in 2001. Before that, the total included iron and steel carried on the broad gauge line between Slawków near Katowice and the Ukrainian frontier at Hrubieszów, but this traffic is now the responsibility of sister company PKP Linia Hutnicza Szerokotorowa.
Open access arrives
Private-sector freight operators began hauling trains over PKP tracks in 1998 following the passage into law of the 1997 Open Access to Railway Infrastructure Act. Over 20 operators have since been established, and in the last five years they have rapidly built up their activity. Despite this, the total tonnage that they carry remains small, with all new operators taking just 4% of the market.
The new arrivals originated from former industrial railways, mainly sand and coal railways in Upper Silesia. Sand railways began running in the early 20th century and were privately owned until the end of the Second World War. Each coal mine had its own sand railway, the sand being used to back-fill exhausted workings.
After the war all these railways were nationalised, and they flourished under state control. Five large sand networks emerged in Upper Silesia, and the total length of route eventually grew to 955 km:
Rybnik, 360 route-km;
Kotlarnia, 200 route-km;
Maczki-Bór, 175 route-km;
Szczakowa, 175 route-km;
Kuznica Warezynska, 45 route-km.
Most of these sand railways are electrified at 3 kV DC, the same as the national network.
Upper Silesia is also home to numerous private lines operated by the coal mining companies. Some of these are only a few kilometres long, hauling coal between the mine and a nearby PKP yard. Their locos do not generally run on PKP tracks.
Other new operators in Poland emerged from former large industrial organisations which had their own networks and yards. For example, the oil refinery in Gdansk operated a 40 km network, while a copper consortium in Lubin near Wroclaw had its own smaller network. Both are now open access companies.
After the fall of communism in 1989, Poland began to adjust to the free market economy. During this process the sand railways and the other industrial railways became joint stock companies and started to run trains over PKP's tracks. Taken together, these operators carried about 65 million tonnes of cargo over their own tracks in 2003, although the amount hauled under open access contracts on PKP tracks was much smaller at about 8 million tonnes.
It is worth examining the new operators as they will play an increasingly important role in the future. All those mentioned have licences from the Ministry of Transport that were granted for an unlimited period, and in some cases replaced earlier concessions.
Chem Trans Logistic Maczki-Bór Ltd is based in Warszawa and has held a licence to haul freight since 1998. It employs 1500 people and owns 24 electric locomotives, including three bought recently from Moroccan Railways; these are Class ET22 units that were built by Pafawag at Wroclaw in the mid-1970s. It also has 80 diesel locos and 3500 freight wagons.
CTL carried 1·1 million tonnes in 2002, 2·0 million tonnes in 2003 and it plans to exceed 3 million tonnes in 2004 on PKP tracks; it carries a further 15 million tonnes a year over private lines in Upper Silesia, including large quantities of sand.
CTL mainly carries oil and related products, but it also handles large amounts of coal, sand and other bulk materials. In September 2002 it began hauling tank wagons between Trzebinia in Upper Silesia and the Baltic port of Szczecin, a distance of 550 km. The next service was launched in November 2002 over the 450 km between Kedzierzyn and Szczecin. This was followed in early 2003 by several more long-distance hauls: from Upper Silesia to the ports of Gdansk and Gdynia, a distance of 700 km; from Upper Silesia to Pulawy, about 350 km; and between Trzebinia and Medyka on the Ukrainian border, also about 350 km.
In co-operation with German private operator rail4chem, CTL hauls trains of oil products between Trzebinia and Hamburg via Gubin (in Poland) and Guben (in Germany). These run three times a week and are hauled in Poland by CTL 2000 kW diesel locomotives of Class ST44 as far as Gubin. There a German Class 185 electric locomotive takes over for the run to Hamburg. Last year, CTL was responsible for almost one-third of all the open access traffic carried on PKP tracks.
CTL also has a small passenger business, but only on a 6 km narrow gauge line in a park near Katowice.
KP Szczakowa SA is a sand railway based in Szczakowa that has been licensed to haul freight since 1998. It mainly carries coal and sand, but also liquefied gas, gravel and other raw materials. The company owns 16 electric locomotives of Classes ET21 and ET22, 25 diesel locomotives of Class SM48 and 1500 freight wagons. It hauled 1·2 million tonnes in 2002 and 1·1 million tonnes in 2003 over PKP tracks.
The coal moves between the Upper Silesian mines and Kostrzyn on the River Oder, about 450 km. From Kostrzyn the trains are taken to Kietz in Germany by MEG GmbH, a subsidiary of DB Cargo. Other routes include 450 km from Bytom to Bydgoszcz, and Bytom to Warszawa, about 350 km. The company has 440 staff.
Przedsiebiorstwo Transportu Kolejowego i Gospodarki Kamieniem SA w Zabrzu. The name of this company translates as Rail Transport & Stone Management Ltd. Headquartered in Zabrze in Upper Silesia with 1600 employees, it was granted a licence in 1999. Motive power consists of seven electric locomotives of Classes ET21 and EU07 and 80 diesel locos. With a fleet of 1300 wagons, it serves 14 coal mines and carried over six million tonnes of freight over privately-owned tracks in 2003, with a further 1·0 million tonnes hauled on PKP territory.
The company has a major contract to deliver coal to a large chemical plant in Kedzierzyn, requiring a haul of around 100 km, and it also takes coal to a power station at Kozienice in central Poland, a trip of about 300 km.
POL-Miedz-Trans Ltd, based in Lubin in Lower Silesia, is a subsidiary of the copper conglomerate KGHM Polska Miedz SA. Granted a licence in 1998, the company is the sixth largest copper producer in the world and the third largest producer of silver. Its traction fleet consists of Class SM48 and SM31 diesel locomotives which haul specialised copper ore wagons between the mine at Lubin and foundries at Glogów and Legnica. Around 0·7 million tonnes were shipped over this 50 km haul during 2003.
Przedsibiorstwo Transportu Kolejowego i Gospodarki Kamieniem SA w Rybniku is another coal carrier which has had its own licence since 1998. It operates essentially on its own network, serving 16 mines within a radius of about 40 km of Rybnik. With 1100 staff, it has a fleet of 82 diesel locomotives of three types, two Class ET21 electric locomotives and 1300 wagons.
Each year it transports 25 million tonnes on its own tracks, mainly coal and ash to and from power stations; it also handles large amounts of crushed stone aggregate. In 2003 it hauled 0·6 million tonnes over PKP tracks, including a number of 2200 tonne trains over the 600 km from Rybnik to Torun in north central Poland. Some trains were also run to a power station at Ostroleka, north of Warszawa.
PTKiGK Rybnik SA applied for a concession to run regional passenger services on lines in southern Poland which PKPPR wanted to abandon, but this was refused by the Ministry of Transport in 2001.
Lotos Kolej Ltd in Gdansk has had a licence to operate a former marshalling yard serving the oil refinery there since 1999, but it did not haul its first main line train until January 1 2003. It has 41 km of its own tracks and six diesel locomotives of Class SM42. Its business is to haul oil trains from Gdansk to Braniewo on the Russian border, a distance of 150 km. It also carries freight from Gdansk to Gdynia port and within Gdansk itself. Traffic amounted to 300000 tonnes in 2003.
PKN Orlen Ltd of Warszawa was granted a licence in 2001, but its first train did not run until August 5 2002. In 2003 the company carried 100000 tonnes of petrol between the oil refinery at Plock and Warszawa Okecie International Airport, a distance of 180 km.
Dyrekcja Eksploatacji Cystern Ltd is another Warszawa-based company, but its history as a large owner of tank wagons dates from 1950. DEC has about 11000 tank wagons and was granted a licence for freight traffic in 2002. It was bought by Chicago-based GATX Corp in 2001.
DEC's main activity is to lease tank wagons to other operators, but the company also has 13 diesel locomotives and hauls about 10000 tonnes a year over the 4 km between Gdansk Port Pólnocny and Gdansk Olszynka.
Other significant freight operators are Transoda Ltd of Inowroclaw, which has a short haul of limestone, Kuznica Warezynska, a sand railway in Dabrowa Górnicza, Sped-Kol Blachownia Ltd in Kedzierzyn-Kozle, which hauls petrol, chemicals and other dangerous goods, and Kotlarnia, another sand railway.
Faced with all this competition, PKP Cargo is looking at attracting new business and has focused much attention on developing container transport. It carried 2·3 million tonnes of intermodal traffic in 2003, up by 5 % over 2002. It now runs 18 daily container trains, including the Ost Wind between Berlin and Smolensk in Russia and the Ferry Train between Poznan and Malm?€? in Sweden.
Broad gauge
PKP Linia Hutnicza Szerokotorowa Ltd is the second freight operator within the PKP Group. Based in Zamosc, it enjoys a unique status as the operator of Poland's only 1520mm gauge line, carrying 4·6 million tonnes in 2003. Around 80% of this was iron ore from Ukraine bound for the steelworks at Katowice.
The broad gauge line has attracted considerable interest recently as it is seen as the final part of the landbridge from Asia to Europe. The first trial shipments of Japanese and Korean containers to Western Europe over this route to a terminal being developed at Slawków are planned for this year.
Loco fleet leased out
PKP Cargo manages not only 130000 freight wagons, including 91000 of its own, but all the motive power for the PKP Group. The company has almost 580 electric passenger locomotives and 1160 electric freight locomotives, plus 270 main line diesel locos. The electric passenger locomotives and some diesels are leased to PKP Intercity Ltd and PKP Przewozy Regionalne Ltd.
On average PKP Cargo runs 1200 freight trains a day and employs about 50000 people. No new locomotives have been bought in the last seven years. However, a fleet of 50 electric locomotives able to run at 200 km/h, including eight dual-voltage units able to run under 3 kV DC and 15 kV 162/3Hz catenary, were ordered in 1996 by former PKP management from Pafawag, later part of Adtranz and Bombardier, in Wroclaw. As PKP Cargo was unable to fund the purchase, the eight dual-voltage locos were sold by Bombardier to Italian private operator Rail Traction Co in 2001, and the remainder to Trenitalia two years later.
CAPTION: One of PKP Cargo's Class ET22 locomotives heads for the German border west of Rzepin with a train of new cars; one of the two tracks has been dismantled for relaying as part of the E20 corridor upgrading project
CAPTION: Two Type 201E electric locomotives, built by Pafawag of Wroclaw, wait for their coal trains to be loaded at the Piast coal mine sidings in Oswiecim. One is owned by PKP Cargo (designated Class ET22, left) and the other is operated by CTL Maczki Bór Photo R Rusak
CAPTION: A Class S2138 diesel locomotive, rebuilt with an MTU engine, is ready to depart Rybnik power station with empty wagons bound for the coal mine at Szczyglowice. It will haul the train over tracks owned by private operator PTKiGK Rybnik Photo R Rusak
CAPTION: A Szczakowa Sand Railway Class ET21 locomotive hauls a train on the CTL Maczki Bór line in Upper Silesia Photo R Rusak
Open access companies compete in the Polish freight market
Six operators and an infrastructure management company emerged when Polish State Railways (PKP) was broken up in 2001, but privatisation is not a government priority for the moment. PKP Cargo dominates the scene with 156 million tonnes of freight carried in 2003, but recently-established open access operators are eating into the company's share of the coal market. Intermodal traffic grew by 5% last year to reach 2·3 million tonnes.
Libre accès aux compagnies concurrentes pour le marché du fret polonais
En 2001, six opérateurs et une société de gestion de l'infrastructure ont émergé lorsque les chemins de fer de l' Etat polonais (PKP) ont éclaté. Mais, pour le moment, la privatisation n'est pas une priorité du gouvernement. PKP Cargo domine la scène avec 156millions de tonnes de fret transportées en 2003, mais des opérateurs récemment établis, profitant du libre accès, mangent une partie de la part du marché du charbon de la compagnie. L'an dernier, le trafic intermodal s'est accru de 5%, pour atteindre 2·3millions de tonnes
Unternehmen im freien Netzzugang konkurrenzieren sich im polnischen Gütermarkt
Mit dem Aufbrechen der Polnischen Staatsbahn PKP 2001 entstanden 6 Betreiber und eine Infrastruktur-Unternehmung. Jedoch hat zur Zeit die Privatisierung nicht eine hohe Priorität bei der Regierung. PKP Cargo dominiert die Szene mit 156Millionen transportierter Gütertonnen im Jahr 2003, aber jüngst entstandene Unternehmen im Freien Netzzugang bedrohen den Marktanteil bei der Kohle. Der Kombinierte Verkehr wuchs letztes Jahr um 5% und erreichte 2·3Millionen Tonnen
Las empresas de libre acceso compiten en el mercado polaco de cargas
De los Ferrocarriles Estatales Polacos (PKP) surgieron seis operadores y una empresa de gestión de infraestructuras tras la división de la primera en 2001. Sin embargo, las privatizaciones no son una prioridad gubernamental por ahora. PKP Cargo domina el escenario con 156millones de toneladas de cargas transportadas en 2003, pero los operadores de libre acceso que se han establecido recientemente ya comienzan a entrar en el cuota del mercado del carbón de PKP. El tr? fico combinado creció un 5% el año pasado hasta alcanzar los 2·3millones de toneladas