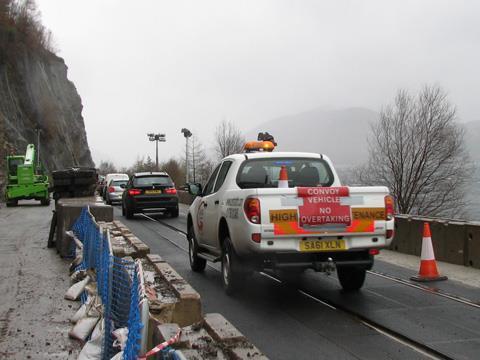 UK: A rock fall which obstructed the A890 road near Stromeferry in the Scottish Highlands in December left communities isolated, with a 225 km round trip needed to bypass the blockage by road. A ferry service was introduced as a temporary alternative, but a better solution was needed until Highland Council's contractor TRAC Engineering can make the road safe for reopening.
As an interim measure, a 150 m section of the adjacent Inverness - Kyle of Lochalsh railway has been temporarily paved to allow vehicles up to 7·5 tonnes to drive along the line. Designed by URS Rail, TRAC Engineering and Network Rail, the roadway combines Rubber Highway modules supplied by HoldFast and installed by Level Crossing Installations with concrete and tarmac shoulders laid by TRAC Engineering.
Since March 19 daytime slots of up to 50 min have been arranged when road traffic can use the diversion along the railway.
The line is controlled by RETB radio signalling. Manned barriers have been installed at each end of the diversion, and these are locked when a train is about to pass.
When the train has passed through, a Controller of Site Safety from Network Rail takes possession of the section of line through an engineer's token, and the barriers are then unlocked. Road traffic runs through in a low-speed convoy with lead and tail vehicles. Convoys run as required to meet demand until the end of the road time slot has passed, at which point the COSS instructs the gate attendants to close the barriers at both ends.
A member of Network Rail maintenance staff then walks the route to visually check that the temporary road is clear for the safe running of trains. The barriers are locked, and the COSS must be in possession of the keys before releasing the line for rail use.