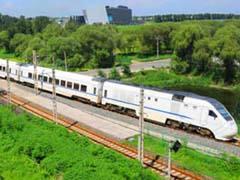 CHINA: Lloyd's Register Asia and the Far East Marine Surveyors subsidiary of China Classification Society have formed an equally-owned joint venture to provide independent assurance services and technical support for China's growing railway supply industry, building on their co-operation in the maritime sector.
CCS-LR Technical Services will assist with the adoption of international standards for safety, quality and sustainability. 'We believe the formation of this joint venture will create the market's leading provider of independent assurance services', said Lloyd's Register CEO Richard Sadler. 'It brings together two organisations with established reputations for integrity and quality to support the development of safe and efficient rail networks, a relationship that will ultimately enhance the reputations of Chinese suppliers in the international marketplace.'
Lloyd's Register Rail (Asia) has sponsored research which predicts that investment in the Chinese rail sector over next five years will be 450% higher than under the 2006-10 five year plan.