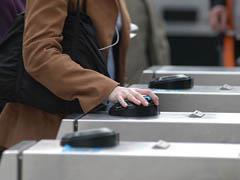 TICKETING: Four major players in the smart card ticketing sector have launched a joint initiative to drive smart media convergence around a common open standard.
Card manufacturers Giesecke & Devrient and Oberthur Technologies have teamed up with chip suppliers Infineon Technologies and Inside Contactless. They are encouraging other companies in the smart media industry to join the standard, which will be supervised by an independent body. The standard is based upon Infineon's hardware-based security platform aimed specifically at public transport smart card applications. The platform uses the Advanced Encryption Standard with 128-bit key length with file types and commons sets based on the ISO/IEC 7816 standard.
The security platform is already widely used for payment card transactions in the commercial sphere, and Infineon believes its preparatory research should allow for rapid uptake of the standard by other smart card providers.