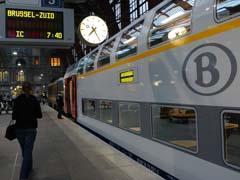 BELGIUM: SNCB has exercised options for an additional 60 Class 18 electric locomotives and 72 M6 double-deck coaches.
An option has been taken up for Siemens to supply a further 60 Eurosprinter ES60U3 electric locomotives at a cost of €222m, with deliveries to run from June 2010 to April 2012. A previous order for 60 locomotives was placed in December 2006.
On December 16 Bombardier and Alstom announced that SNCB had signed a €128m contract for a further 72 M6 coaches for delivery between April 2010 and March 2011. This is the fourth follow-on order to an initial 1999 contract, bringing SNCB's total order to 492 cars. The first entered service in 2002.
The contract value is split equally between the two suppliers. Alstom will produce 68 semi-finished intermediate cars at Valenciennes, control equipment at Villeurbanne and auxiliary converters and signalling equipment at Charleroi.
The four driving cars will be produced by Bombardier's Brugge plant, which will also undertake final assembly of the intermediate cars. Bogies will be manufactured at Crespin.