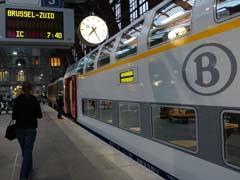 BELGIUM: SNCB has placed an order with Alstom for the supply of a further 956 sets of TBL1+ onboard train protection equipment. Installation will be undertaken by SNCB.
The contract follows an order for 866 sets placed in 2007, and includes a 10 -year maintenance agreement bringing the total value of the contracts to €27·4m.
TBL1+ is a development of the Belgian TBL1 train protection system, which triggers automatic braking if a train approaches a stop signal at more than 40 km/h and halts the train if the signal is passed. TBL1+ uses ETCS compatible components, which Alstom said makes future export orders a possibility.
In 2006 Infrabel awarded Siemens a €105m contract to install and maintain TBL1+ and ETCS Level 1 equipment at 4 000 signals. SNCB has ordered all its TBL1+ onboard equipment from Alstom, which is also supplying ETCS Level 1 and 2 equipment for 120 Class 13 and Class 18 locomotives and 81 I11 and M6 push-pull driving cars.