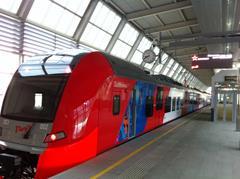 RUSSIA: Trial running has started in Sochi with the first of 38 Lastochka EMUs being supplied by Siemens in time for the 2014 Winter Olympic & Paralympic Games.
The multiple-unit was due to be presented to RZD Vice-President Valentin Gapanovich and Transport Minister Maxim Sokolov by the head of Siemens Mobility Hans-Jörg Grundmann ahead of the 1520 Strategic Business Forum taking place at the Black Sea resort from May 30 to June 1.
To date Siemens has delivered three of the five-car Desiro RUS sets to Russia. Two are being used for technical acceptance and EMC testing, while unit 002 has started driver training and commissioning trips between Sochi and Adler. Formal acceptance is anticipated in November, with the first trains entering revenue service by the end of this year.
The EMUs are designed for dual-system operation. The existing main line between Sochi and Adler, which is currently being double-tracked, is electrified at 3 kV DC, as is the recently-opened 2·7 km branch from Adler to Sochi Airport. The 48 km line under construction from Adler to Krasnaya Polyana, which will serve the Olympic venues at Alpika-Servis, will be wired at 25 kV 50 Hz.
Some Lastochkas will be used Kazan next year when that city hosts the World Student Games, and 38 sets are expected to be in traffic for the Olympic Winter Games in 2014. They will operate at 5 min headways at peak times, offering a capacity of 12 000 passengers/h. Following the games, some sets will be redeployed on airport express services around Moscow, whist others will be retained by the North Caucasus Railway for use around Sochi.
The first of 16 locally-assembled sets being supplied by the Train Technologies joint venture of Siemens and Sinara is now expected to be delivered in the third quarter of 2014. RZD is planning to buy up to 1 200 vehicles in suburban and inter-regional configurations, with both five- and 10-car sets envisaged.