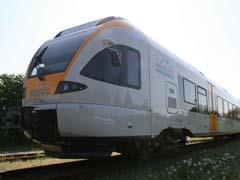 ANGEL TRAINS: Rolling stock leasing company Angel Trains will be split into stand-alone UK and continental European businesses, the new owners announced following the completion of their £3·6bn acquisition on August 6.
Following regulatory approval, Royal Bank of Scotland sold Angel Trains to a consortium including Babcock & Brown European Infrastructure Fund, Babcock & Brown Public Partnerships, AMP Capital Investors, Deutsche Bank, funds advised by Access Capital Advisers and Public Sector Pension Investment Board.
Simon Gray, Head of European Infrastructure Mergers & Acquistions at Babcock & Brown, said splitting Angel Trains into two businesses will allow the companies to focus on the differing requirements of the two markets. 'In the UK we are operating in a mature, but growing market', he said, 'whilst the continental Europe market is developing rapidly following market liberalisation'.