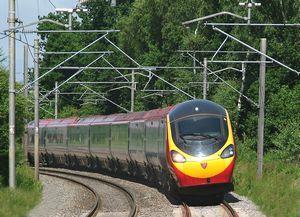 ANGEL TRAINS: Royal Bank of Scotland's long-anticipated sale of rolling stock leasing company Angel Trains to a consortium led by Babcock & Brown was announced on June 13.
Definitive agreements with an enterprise value of £3·6bn of have been signed, and subject to regulatory approval the transaction is expected to be completed by the end of 2008.
Angel Trains is being acquired by a consortium of investors including the €2·2bn Babcock & Brown European Infrastructure Fund, Australian investment manager AMP Capital Investors, Deutsche Bank and pension funds advised by Access Capital Advisers.
On completion of the deal, Australia-based Babcock & Brown will have global interests in rail assets worth more than A$9bn, including around 26 000 vehicles. Thus includes European leasing company CB Rail, a joint venture between Babcock & Brown and HBOS of the UK.
Angel Trains currently provides UK operators with around 4 100 passenger vehicles and 280 locomotives, and is a partner in the Express Rail Alliance bidding to supply the IEP next generation of inter-city trains. Angel Trains Cargo and Angel Trains Europa provide 240 locomotives and 180 multiple-units to operators in 11 other European countries, and the first wagon leasing contract was announced in February.
Head of AMP Capital's European infrastructure activities, Rob Gregor said the consortium is a long term investor, and it will be 'business at usual' Angel Trains. 'We have agreed this acquisition at a time of continued growth of the rail freight and passenger markets in the UK and Europe, and we believe that the liberalisation of the European market and government investment in the UK mean that this is an exciting time to be investing in the UK and European rail sectors.'