EAST AFRICA: Frustrated by a lack of progress in revitalising the region's railways, politicians are increasingly questioning the ability of the concessionaires and withdrawing their support in favour of ambitious proposals to develop new standard-gauge lines.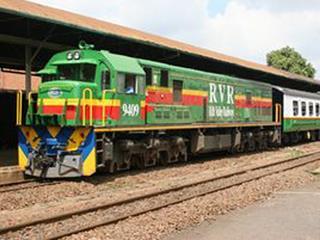 Life is not proving easy for the two international concessionaires struggling to revitalise the remnants of the once-successful East African Railways network in Kenya, Uganda and Tanzania.
Last month reports began circulating in Nairobi that Rift Valley Railways' 25-year concession in Kenya and Uganda was to be cancelled with effect from August 10, and that control of the Kenyan network would revert to Kenya Railways Corp.
The move comes a year after RVR was restructured to raise the level of local participation, following severe criticism by the Kenyan government. That resulted in the replacement of former Managing Director Roy Puffet from Sheltam by Brown Ondega of the Kenya Ports Authority and the appointment of Australian defence logistics specialist PDL Toll to provide technical support (RG 10.08 p584).
RVR had reportedly been given a year to get the revised concession structure operating smoothly. But with the deadline approaching and the government apparently still disatisified, the company sought protection from the High Court on July 29, preventing the termination of the concession contract until negotiations could be completed. This injunction was due to end on August 7, but was later extended, as RVR is arguing that the railway is vital to the regional economy. The ministry's current line is that the concession agreement should be 'adjusted' to take account of changes in the consortium's shareholding and its ability to raise funding on international markets.
Not that KRC is well placed to take back control of the railway, in any case, and Transport Minister Chirau Ali Mwakwere is understood to have accepted that terminating the concession would result in 'total collapse' of the Kenya – Uganda railway.
A report by Kenya's Auditor General Prisca Komora presented to parliament in July found that KRC 'is technically insolvent', relying on 'financial support from the government and its creditors'. This was attributed in part to a failure by RVR to meet its committed payments for use of state-owned railway assets. KRC had reported a loss of KSh1bn for the year to June 30 2007, covering the start of the concession on November 1 2006, and a loss of KSh1·9bn was projected for 2008-09.
KRC is reported to owe around KSh13bn to its creditors, including 6 200 retired staff who had been due to receive their pensions out of the concession payments. MP Edwin Yinda told the Nairobi Star that RVR owed KRC around KSh600m. He claimed that the concessionaire had failed to invest in modernisation of the railway and 'was only trading on money generated from the assets it inherited from Kenya Railways'. Another MP reported that KRC workers transferred to RVR were still on 'probationary' contracts which should have been confirmed after six months.
Standard gauge vision
It seems that Kenya's politicians have been seduced by the prospect of building a completely new line rather than trying to restore their existing network to good working order. Justifying the plan to cancel the RVR concession, KRC Managing Director Nduva Muli announced in July that KSh3bn (US$37·5m) had been allocated in the transport ministry's budget for constructing a standard-gauge railway from Mombasa through Uganda to the Rwandan capital Kigali. Consultants were to be appointed 'soon', he said, with work to begin in 2010 and be completed in two years. Although the cost would be shared between the three countries, Kenya's allocation would not go far towards building a 1 900 km line priced at US$8·5bn.
Mwakwere later confirmed that the money had been budgeted as 'part of the funds meant to spur economic growth in the face of the global recession', but admitted that the funds had not actually been released as the Treasury was still 'toying with the financing mechanism' and considering a public-private partnership.
In his words, the whole project has been 'frozen', along with plans to construct new lines to both Sudan and Ethiopia from a new port at Lamu on Kenya's northeast coast and a metro in Nairobi. Also on hold is a short deviation of the existing main line around Kibera, where unruly residents have periodically ripped up the tracks.
Further south, members of Tanzania's parliament have been pressing for cancellation of that country's two-year-old concession agreement with Rites-led Tanzania Railways Ltd, claiming that expected service improvements have not been delivered.
According to Rites, the metre-gauge railway's infrastructure and rolling stock had been in a parlous condition on takeover, and operations had largely collapsed. Services have now been restored using locos and coaches brought in from India. But Rites complains that the government — which holds the other 49% stake in the concession company — has contributed nothing in terms of meeting its financial responsibilities. TRL CEO Hundi Lal Chaudhary told The Citizen in Dar-es-Salaam that he was ready to terminate the contract if required but the government would have to give three months' notice, and pay US$43·5m in compensation for expenditure already incurred.
On August 14 Infrastructure Dev­elopment minister Dr Shukuru ?Kawambwa reiterated that the government had '100% trust' in Rites' ability to manage the business, but revealed that a task force had been appointed to analyse TRL's business performance and review the 25-year concession contract. This would 'outline weaknesses' and help the shareholders ?'discuss and amend some of the terms', he explained. Kawambwa admitted that TRL was facing financial difficulties, although Rites had made TSh20bn available. Other donors had withheld promised loans, but he was hopeful these would be released following the contract review.
Meanwhile Rwanda's Infrastructure minister Linda Bihire has suggested that the Tanzanian concession agreement may have to be 'revised', as it stands in the way of building a standard-gauge line from Dar-es-Salaam to Rwanda and Burundi via Isaka.
Following studies by DB International, the World Bank recently declared that the proposed 1 690 km line was feasible, according to Bihire, but it is still not clear how it would be financed. The cost was first estimated at US$3·5bn, and later cut by 30%, but this may not include the fleet of new standard-gauge rolling stock which would be needed. Responsibility for developing the line is supposed to be shared between Tanzania, Burundi and Rwanda, but Rwanda is also expected to contribute towards the other proposed route from Mombasa.