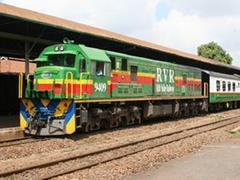 KENYA: Barely 18 months after the Rift Valley Railways consortium finally took control of the 900 km Kenya-Uganda railway on November 1 2006, pressure is growing for the 25-year concession to be cancelled.
RVR is clearly having a tough time, with the railway linking Mombasa with Nairobi and Kampala having suffered many years of neglect and under-investment. But Managing Director Roy Puffet said on May 25 RVR wished to 'reconfirm its commitment to the Kenya and Uganda governments that we are on course to ensure that this rail service is turned around to be the best railway in Africa'.
Puffet was responding to press reports that Kenyan Prime Minister Raile Odinga had raised the possibility of cancelling the concession at an inter-ministerial meeting on May 22. He admitted that the capital expenditure programme was running behind schedule, because raising loan finance was complicated by the 'complex' concession structure involving two governments, two residual railway administrations and two international financing institutions.
The government is concerned that RVR has failed to pay its quarterly concession fees due at the end of January and April. However, RVR says it paid its fees in full, up to the time that civil unrest broke out in Kenya earlier this year. Puffet says this should be declared a 'political risk event' under the terms of the concession agreement, as the railway had to be closed when protestors removed sections of the main line.
Further disruption came on May 12 when floods damaged a bridge at Jinja, cutting the main line for two months. RVR has switched some traffic to road for the last leg into Uganda; fuel oil trains are being routed via Kisumu and Port Bell, using a Lake Victoria train ferry hired from Tanzania.