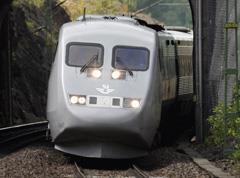 SWEDEN: Infrastructure manager Banverket has submitted a report to the government recommending the construction of two high speed corridors over the next 20 years, at an estimated cost of SKr100bn to SKr150bn.
According to BV Director General Minoo Akhtarzand, the rail network will need 50% more capacity by 2020 to cope with rising demand and encourage the transfer of passenger and freight traffic from less environmentally-sustainable modes. As well as making rail more competitive with air, saving up to 2 million tonnes of CO2 a year, the construction of new high speed lines would release capacity on the existing network for more regional passenger and freight trains, according to the report.
Requiring 246 km of new construction, Gotalandsbanan and Europabanan are intended to relieve the Western and Southern main lines which are expected to reach their capacity limit between 2025 and 2035. Both routes would be designed for 320 km/h, cutting Stockholm - Goteborg journey times from 3 h to 2 h and Stockholm - Malmö from 4 h 15 min to 2 h 45 min, Banverket envisages building the routes in phases, starting with a section of the Götalandsbanan from Mölnlycke to Rävlanda via Göteborg airport at Landvetter, and the so-called Ostlänken between Järna and Linköping via Nyköping and, Nörrkoping. These would be followed by Almedal - Mölnlycke and Rävlanda - Borås, which would be built by 2020.
Construction of a new route between Linköping and Borås via Ulricehamn and Jönköping would complete the Stockholm - Göteborg corridor. The Europabanan would run from Jönköping to Helsingborg, connecting with the upgraded West Coast line to Malmö and a proposed tunnel under the Öresund.