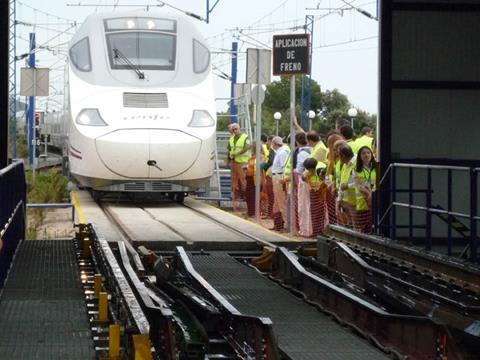 RUSSIA: By the end of April the Shcherbinka research centre near Moscow will complete tests which aim to assess whether Talgo automatic gauge-changing technology could be used under Russian conditions. Coaches supplied by the Spanish firm will also undergo running trials on the Moscow - St Petersburg and Moscow - Brest routes.
RZD is interested in using 'Talgo-type rolling stock' to operate faster passenger services from Moscow to Warszawa, Berlin and Praha, eliminating the need to swap bogies at the break between 1 520 mm and standard gauge. Talgo gauge-changing systems are currently used in Spain to allow trains to run through from 1 668 mm to standard gauge without stopping.
RZD President Vladimir Yakunin met Spanish Development Minister José Blanco in Madrid on March 4 to discuss progress with the project, which was agreed by RZD and Patentes Talgo in October 2008.