RUSSIA: Plans to give Russian Railways a fleet of modern diesel and electric locomotives are being implemented as part of a two-phase network expansion strategy. Boris Lukov reports.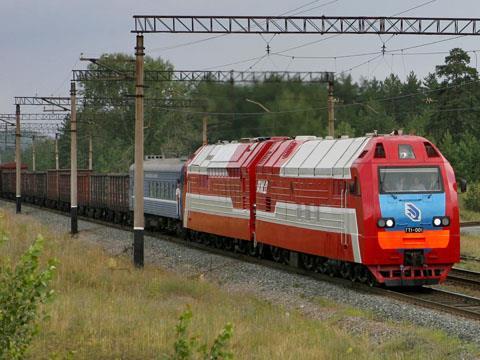 In July 2008 the Russian government approved The Strategy for Railway Development in the Russian Federation to 2030. Drawn up by Russian Railways, this important document sets out the details of a policy to modernise the 86 660 km national network and renew the aging motive power fleet. According to Vadim Morozov, First Vice-President of RZD, the programme is in two phases, the first of which runs to 2015.
Emphasis in the first phase is firmly on the replacement of out-of-date rolling stock, while the second, which runs from 2016 to 2030, is geared mainly towards expansion of the network, with as much as 20 700 km of new line proposed for construction. Phase 2 also envisages completion of the rolling stock renewal process.
Although RZD has been affected by the global financial downturn since the plan was approved, leading to an 11% reduction in the volume of freight transported, this is not expected to impact on long-term development. On November 20 RZD President Vladimir Yakunin told a meeting of the 17 regional railway presidents that the primary objective for every manager across the company in 2009 would be to reduce operational expenditure and attract business - notably freight - to the railway. But he insisted that the 2030 strategic plan would not be changed, although there might have to be some adjustments to the investment schedule.
While the strategy defines broad policy for the next 21 years, technical development was outlined in a white paper published in 2007. This specifies the requirements of future information and operational control systems as well as the development and manufacture of advanced motive power using asynchronous traction motors. Valentin Gapanovich, RZD's Senior Vice-President responsible for motive power and rolling stock, says the white paper forms the basis for a programme of innovations that will permit RZD to catch up with technical advances in other countries.
Stage 1 of the programme is designed to raise the performance and productivity of locomotives now in service and to develop and test prototypes designed during the 'transition period'. Stage 2 envisages expansion of motive power manufacturing capacity, with extensive modernisation of production facilities. Stage 2 should also see the start of series production of locomotive designs developed during the transition period, while prototypes for the future generation of motive power with asynchronous motors will be built and tested, paving the way for series production in the final stage.
'It goes without saying that the equipment now being delivered to RZD requires a fundamental revision of existing norms', explained Gapanovich, noting that 'we are developing new national technical standards for railway equipment'. Suppliers are expected to use these technical specifications as long-term production guidelines.
RZD has already updated its purchasing strategy to reflect practice elsewhere. In the past RZD bought locomotives on the basis of capital cost, but future purchases will take life-cycle costs into account. Gapanovich noted that this should also reflect quality and reliability, with components standardised where possible and specialist equipment provided for specific duties. He warned that 'many companies have not yet overcome their backwardness in terms of calculating the basic technical specifications of equipment they supply to RZD - modern computerised practice must be used from now on.'
Gapanovich also revealed that an association of 72 railway equipment manufacturers had been set up to tackle the issues facing Russia's locomotive supply industry. The association would help draw up a production programme for building the next generation of locomotives.
Fleet renewal
At the moment RZD has 13 800 diesel and electric locomotives, of which 11 100 are designed to haul freight; it also has 16 000 EMU cars. Before recession struck, forecasts for 2007-15 envisaged an increase in freight traffic of 16%, which could not be handled because the existing fleet is rapidly becoming obsolete. The situation is taken very seriously by RZD management, and Yakunin told the 1520 Strategic Partnership in Sochi last May that RZD was taking urgent and comprehensive measures to renew its traction fleet. The Strategy for Railway Development says that RZD will need 23 400 locomotives and 24 000 powered EMU cars built to international standards by 2030.
Konstantin Ivanov, RZD's head of Technical Policy, points out that average wear rates for infrastructure and other equipment over the last 15 years have risen significantly, and with locomotives the figure is even higher — there were 992 serious locomotive failures during the first six months of 2008.
The replacement policy demands considerable investment, and in 2010-30 RZD expects to spend a total of 31 500 bn roubles, with 629·3bn roubles earmarked for locomotives and rolling stock (Table I). This should ensure that by 2015 RZD no longer suffers from locomotive shortages.
Manufacturing capacity expands
RZD uses two main motive power suppliers: Transmash Holding, which is the main builder of diesel and electric locomotives, and Sinara Transport Machines Group. To meet demand from RZD, TMH is expanding its production capacity. In 2007 the Novocherkassk Locomotive Manufacturing Plant (NEVZ) built 267 locomotive sections (many Russian locomotives are twin-units), and in 2008 the figure rose to 369 sections. However, RZD's total demand for locomotives in 2008-15 amounts to 11 657 units or 1 668 a year. Beyond that, in 2016-30, RZD estimates that it will need a further 11 722 units or 837 per year.
On June 17 2008 NEVZ handed over the 500th EP1M locomotive to RZD at a special event, which marked the end of a long period when orders were few and far between. Speaking at the ceremony, Yakunin emphasised that 'at the start of 2008, 72·5% of [RZD's] electric locomotives and 84·2% of the diesel fleet were worn out'. With the Strategy envisaging that RZD will need to buy an average of about 1 000 electric and diesel locomotives annually, he said the railway was 'ready to buy all locomotives manufactured at NEVZ.'
TMH General Director Andrei Andreev explained that his company had spent 1·8bn roubles so far updating the factory. 'In the past we replaced old equipment selectively, but from now the production process is being totally modernised. Around 75% of the equipment in the factory is worn out, and over the next three years we shall invest a further 2bn to 2·5bn roubles.'
NEVZ's products include the EP1M, which was first built in 1998. Able to haul a 24-coach passenger train at up to 140 km/h, the loco operates in the Southeastern, North Caucasian, October, Far East and Volga regions, as well as on the Trans-Baikal Railway. It has replaced the Cz4 and Cz4T designs built in the former Czechoslovakia and the Russian-built VL60PC locomotives dating from the 1960s and 1970s.
NEVZ General Director Sergei Podust said that production capacity had increased rapidly after the factory became part of TMH. Apart from the EP1M and EP1P designs, NEVZ is manufacturing the 2ES5C twin-unit Yermak freight locos for 25 kV AC routes and the 2ES4C Donchak for 3 kV DC lines. NEVZ is also working on the design of advanced electric locomotives such as the EP20A with asynchronous traction motors. Modular construction is planned for a twin-section version of the EP20 so that it can serve as the basis for a number of derivatives, one of which will be a dual-system variant. These will have an axleload of 27 tonnes. Series production is expected to commence in 2011.
RZD has an agreement with TMH to purchase 212 electric locomotives in 2007-09, and 109 of these will be E5C single-section derivatives of the Yermak designed to haul container trains as well as conventional freight trains at speeds up to 110 km/h. In May 2007 RZD began testing an E5C prototype on the Likhaya - Bataisk - Timashevskaya line in North Caucasia. Trials were completed in November of that year, and after assessing the results, RZD's acceptance board decided to place a firm order for the first 30 units. These will replace VL60C locomotives built by NEVZ in 1957-67.
According to Podust, production capacity at Novocherkassk will double by 2015. He reminded guests that in 1997 NEVZ had built just five locomotives, whereas in 1986 during the Soviet era the factory had assembled 397.
Output from Kolomna
Meanwhile, TMH's Kolomna factory has begun series production of the EP2C, which is the first DC locomotive for passenger service to be built in Russia. With an hourly rating of 4 800 kW and a top speed of 160 km/h, it features microprocessor control and has been designed to operate in temperatures ranging from -50°C to +40°C. An EP2C is being tested in regular passenger service on the Moscow - St Petersburg route, and a batch of six similar locomotives has completed trials in passenger service on the Novosibirsk - Omsk line with good results. According to Konstantin Ivanov, RZD bought 12 EP2C locomotives in 2007 and 41 in 2008; orders for a further 178 will be placed in 2009-10.
Kolomna has also rebuilt four diesel locomotives designated as TEP79 BC. Featuring the latest control and safety equipment as well as a fault diagnosis system, these will no longer require regular inspection and preplanned repairs as all defects will be recorded and displayed on the screen in the cab, which has air-conditioning and automatic fire extinguishing equipment. The four locos have successfully undergone trial operations in Siberia.
Products from Bryansk
Bryansk Machine Building factory, also part of TMH, has started series production of the 2TE25C Perisvet diesel locomotive which RZD has certified after trials with a prototype built in 2005 demonstrated that the 5 000 kW locomotive could haul 6 000 tonne trains at 120 km/h. A batch of 20 was built in 2008, and 16 of them were delivered to RZD, which has a further 145 on order. These locomotives have individual control of the eight traction motors, allowing a 15% improvement in adhesion. The 2TE25C is intended to replace the 2TE10 and 2TE116 classes.
To handle very heavy freight trains, Bryansk has developed the twin-unit 2TE25A Vityaz, Russia's first freight locomotive with asynchronous traction motors. Weighing 288 tonnes, a prototype hauled a 7 500 tonne test train in late 2007 on the Bryansk - Oryol route with RZD Vice-President V Gapanovich and TMH Technical Director V Shnaidmueller on board. The 2TE25A underwent certification trials in 2008 and regular deliveries are scheduled to start in 2009.
Sinara locomotives
The Sinara Transport Machine Group owns the Urals Plant of Railway Machine Building (URMB), the Ludinovo Diesel Locomotive Plant and the Urals Diesel Engine Plant. URMB has started series production of modular twin-section 2ES6 locomotives with regenerative braking following trials which included hauling a 6 300 tonne train over 5 000 km with a top speed of 80 km/h between Yekaterinburg and Balesino. Under a contract signed in June 2007, RZD took delivery of nine 2ES6 locomotives in 2008. The first 25 are due to enter regular service in the Yekaterinburg region from July 2009.
But before this happens, RZD must agree a price with the supplier, whose subcontractor for transformers and traction motors has raised prices drastically. In 2007 RZD and Sinara agreed a figure of 69m roubles per locomotive, but Sinara is now asking up to 100m roubles. STM General Director Yevgeni Kopein is sure this can be resolved, indicating recently that prices have been cut by 16%.
Kopein expects URMB to turn out 120 locomotives a year by 2010, and the company is expanding and modernising its facilities with this in mind. It is investing 5bn roubles at URMB and 3·5bn at Ludinovo. STM is also investing in research and development to give its factories the ability to build locomotives with asynchronous motors. A DC locomotive designated 2EC10 is due to be rolled out in 2010, and in the same year the company plans to unveil an eight-axle diesel. RZD expects to buy nearly 5 400 locomotives from URMB by 2030.
Gas turbine 'breakthrough'
In July 2008 RZD's prototype GT1 gas turbine locomotive hauled a 3 000 tonne train over the Smyshlyaevka – Zhigilyovskoe Morye line near Samara, prompting Gapanovich to hail the project as a major breakthrough. In more recent trials last December, GT1-001 hauled a trailing load totalling 10 000 tonnes, leading Gapanovich to suggest the locomotive is capable of hauling heavy freight trains of up to 116 wagons. The design is intended to haul trains of 10 000 or even 12 000 tonnes in Siberia, which is rich in natural gas.
Vladimir Rudenko, Chief Engineer in charge of the project, confirmed that trial operations had been successful, and suggested that the GT1 had potential to reduce energy consumption by up to 30%. One section of the 300 tonne twin-unit is equipped with turbines and other traction equipment and the other houses containers holding 17 tonnes of liquefied gas which enable to the locomotive to run for 700 km between refuelling.
International co-operation
As Russia's manufacturing industry does not fully cover RZD's demand for locomotives, RZD is co-operating with the Lugansk Diesel Locomotive Manufacturing Plant in Ukraine, placing an order for 55 rebuilt 2TE116 locomotives. Known as the 2TE116U, the rebuild has a new diesel engine offering a 25% increase in traction power which should meet RZD's need to haul 6 000 tonne trains.
Russian industry is also working with suppliers from other countries. At the 1520 Strategic Partnership event in May 2008 TMH signed an agreement with Bombardier Transportation to establish a joint venture to develop and manufacture locomotives for RZD equipped with Mitrac technology. The first design to benefit will be the EP20 being developed at NEVZ.
Under a long-term co-operation deal between Sinara and Siemens, Ludinovo is to build a prototype six-axle main line diesel locomotive rated at 2 000 to 3 000 kW with asynchronous traction motors. The agreement also envisages development of a shunter with a power rating of 1 200 to 2 000 kW. According to V Pestrikov of Sinara, the Russian partner will develop the overall design and bogies while Siemens will be responsible for the traction motors and control system. Should the project lead to series production, the assembly plant will be located in Russia.
'We are expecting transfer of technology and production know-how in 2010', said I Timofeev of Siemens Russia, who confirmed the German company's willingness to share expertise with Sinara. 'The agreement is of a general nature without specifying the roles of either partner. However, we are willing to co-operate in different forms, either by licensing locomotive production or setting up joint production of electronic and electrical components. The ED20 Siemens locomotive is already in operation in Lithauania', he stated.
Another German company, Knorr Bremse Schienenfahrzeuge, is co-operating with TMH to develop and produce modern braking equipment in Russia, and this project provides for Knorr-Bremse disc brakes to be fitted to future rolling stock built at the Tver Passenger Carriage plant.
RZD is also able to draw on French company Alstom for expertise in quality control. According to Jean-Jacques Teyssier, formerly Vice-President of Alstom Transport responsible for rolling stock production, the company's Apsys quality control and production system is to be installed at the Demikhovo EMU plant. This is a pilot project for transfer of the production management system to Russia, and Valeri Shataev, General Director of the Federal Passenger Directorate, is confident that this will improve production and repair of EMUs and help reduce costs.