SLOVAKIA: A 15-year lease of a container transfer terminal will enable Russia's intermodal operator to launch direct services between Moscow and the Adriatic ports, boosting its position in the Eurasian landbridge market. Chris Jackson reports from Dobra.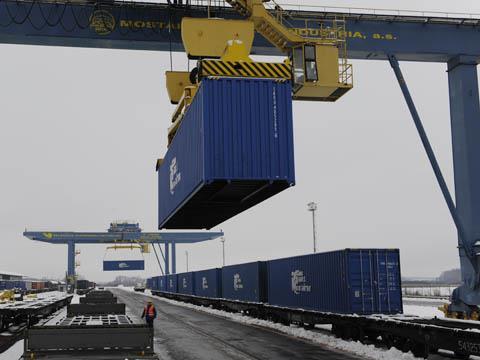 'This is one of the most important strategic routes in Russian railway policy', emphasised RZD President Vladimir Yakunin on November 25, participating in ceremonies to launch an 'integrated logistics corridor' linking Russia and the Far East with central and southern Europe via international transport Corridor V.
Yakunin was speaking at Dobra, in the southeast corner of Slovakia, where RZD's subsidiary JSC Transcontainer has signed a 15-year deal to lease the gauge-transfer terminal from ZSSK Cargo with effect from July 1 2009. The terminal is intended to form the hub of a new Eurasian intermodal network, opening up a route between Russia and western Europe via Ukraine and Slovakia to augment the lines through Belarus and Poland.
In the longer term, Slovakia is seen as the gateway for a broad-gauge route into western Europe. As well as marking the Dobra terminal lease, Yakunin signed a Memorandum of Intent with Slovakia's Minister of Transport Lubomir Vazny and the Deputy Director of Ukrainian Railways Michael Kospjuk paving the way for the construction of the oft-discussed 1 520 mm gauge line to Wien.
According to Vazny, the events at Dobra followed on from the signing of a Memorandum in Moscow on January 4 2008 under which the Russians would help to develop the existing broad-gauge route built to serve the Slovakian steelworks at Hutníky near Košice and create an international logistics business. This in turn led to the formation of a working group bringing together representatives from Russia, Ukraine, Slovakia and Austria to prepare preliminary estimates.
Under-used facility
The new line may be some way off, but Transcontainer is keen to get into the market as quickly as possible. Director-General Petr Baskakov said creation of the new hub at Dobra was 'very important for us' as it would complete the final missing links in a 12 000 km corridor linking China and Europe. 'There are very good prospects ahead', he emphasised. 'Today offers us a unique opportunity to offer our clients an end-to-end route that can match deep sea routings but with journey times that are cut to a third'.
Located 10 km from the Ukrainian border between Pribenik and Cierna-nad-Tisou, the Dobra terminal is served by both ZSR's 1 435 mm gauge network and a 1 520 mm gauge branch from Chop. The terminal was built in 2002, but technical problems meant that it did not become fully operational until four years later. Even now it remains considerably under-used, handling around 2 000 TEUs a year compared with a nominal capacity of 700 TEUs a day.
The 18 ha facility has four broad-gauge and four standard-gauge tracks around 600 m long, and two 50 tonne Brezno container cranes. Although primarily intended for gauge transfer, it also does some road-to-rail transhipment, particularly palletised metal goods. According to ZSSK Cargo's Team Leader Jirí Pokorny, it takes around 5 min to transfer a container between broad and standard-gauge wagons, allowing a complete train to be transhipped in under 2 h. The site also has a stacking area able to accommodate up to 1 730 TEUs
Contributing to the current under-utilisation of Dobra is a long-standing agreement between the state railways of Slovakia and Ukraine under which westbound traffic is transhipped in Slovakia and eastbound at Chop in Ukraine. Non-containerised traffic is handled at Cierna-nad-Tisou. However, Pokorny says this agreement does not apply to 'private' operators such as Transcontainer.
Under the agreement, Transcontainer will take over the operation of the terminal completely and meet all the running costs. Some details have yet to be settled, including whether the staff will transfer to the new operator or remain employed by ZSSK Cargo. Although the lease does not start officially until July 1, Transcontainer hoped to be able to launch its first services before the end of 2008.
Transcontainer and ZSSK Cargo are planning to develop a regular intermodal service along Corridor V linking Moscow with the Adriatic ports of Trieste and Koper, under an international agreement signed on July 17. Transcontainer will introduce its own block trains between Moscow and Dobra through Ukraine, and is currently tendering for an operator to handle the 1 435 mm gauge services serving its new hub from the west.
Baskakov said he was convinced that 'the terminal in Dobra will become a reliable gateway for European cargo in the same way that Zabaikalsk [on the Russian-Chinese border] is for East Asian cargo.' He believes the facility could soon be handling more than 250 000 TEUs per year, although the initial target for 2009 is a more modest 25 000.
Broad gauge potential
The Dobra agreement is seen by the project partners as a stepping stone towards RZD's longer-term ambition of pushing a broad-gauge line into western Europe. Upgrading of the existing broad-gauge line to Košice and its extension to Wien is projected to require an investment of around US$4·3bn.
Describing the project as 'one of the options for integrating transport between the countries of the European Union and Russia', Yakunin said he believed that the new line could be operational in about five years.
He envisages that the line will also carry international passenger services, but the priority is quite clearly long-distance freight. 'Today's events will help the railway industry to enhance the unobstructed movement of freight from the Pacific Ocean to Europe and beyond', said Yakunin. 'It is an unprecedented project - the first time the railways of Russia, Slovakia, Austria and Ukraine have put their signatures to the intent of creating a new railway corridor'.
'Today the sea route takes 40 days. Last year we ran a train from Beijing to Hamburg in 18 days, but we need to achieve still higher speeds and cut the overall time to 14 days or less'.
'This project has a pan-European character', Yakunin insisted, adding that 'door-to-door delivery of freight to the centre of Europe without changing the track gauge will enable a significant increase in delivery speed.' He also envisages increased flows of European goods into the growing markets of Russia, Ukraine and central Asia.
Working together better
Asked how significant landbridge traffic was as part of RZD's total business, Yakunin said it was not so much about volumes as mentality; the important thing at this stage was getting the different railways to work together and compete against other modes such as deep-sea shipping and road haulage. 'Railways can only win by working together' he insisted, adding that 'our real opponents are the other modes. We have a nice saying in Russia: "friendship is friendship, but we will not share our tobacco". Why should rail share the market with ships and lorries?'
Looking forward, he said he was 'personally convinced that this project will be a success … this is a development which no-one will be able to stop'. Noting that 'we have signed the Memorandum of Intent', Yakunin said 'there will be more to follow as we integrate our transport policies over the next two years'. Asked whether the global financial crisis might impact on projected traffic demand, he was sure that short-term fluctuations would not impact significantly on longer-term projections. 'The world may be in crisis now, but every cloud has a silver lining'.
'Landbridge is not just about routes - it's a mentality thing. It's about getting the railways to work together'
Vladimir Yakunin, President Russian Railways