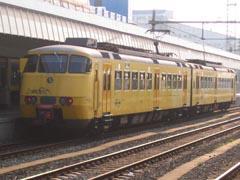 NETHERLANDS: Metro passengers take it for granted that they can turn up when they like and simply board the next train. There is no need to plan the trip or look at a timetable.
From the passenger's point of view, turn up and go applies to some main line operations, typically on busy suburban routes. In the Netherlands, NS Reizigers runs four Intercity trains an hour in each direction on key routes, with each train often consisting of 10 or 12 double-deck cars. Despite this, overcrowding remains a problem, so the target for the next decade is to step up IC frequencies to every 10 min.
In the past, additional tracks, longer trains and platform extensions have been built to overcome bottlenecks and swell line capacity, but the Dutch government and infrastructure manager ProRail are keen to determine if a cheaper way can be found.
It was with this in mind that NS Reizigers and ProRail launched a one-week test of enhanced peak-hour services between Amsterdam, Utrecht and Eindhoven on August 31.
Finishing on September 4, the trial saw the number of IC trains stepped up to six an hour each way, plus six instead of four Sprinter (stopping) services an hour in each direction between Utrecht and Geldermalsen. Paths were also provided for two freight trains an hour each way; it turned out that some of these had been withdrawn because of the recession, and light engines ran to simulate the missing services.
With 28 trains an hour, level crossings were a major concern, especially between Vught and Boxtel on the 's-Hertogenbosch – Eindhoven route. Fearing that the crossings would be closed to road traffic for up to 45 min per hour, ProRail deployed staff to ensure that frustrated pedestrians did not attempt to cross the tracks without waiting for the gates to open.
NS provided extra staff on every station to ensure punctual departures, and strict adherence to the revised timetable, which was billed for public consumption as spoorboekloos rijden (timetable-less operation).
The trials were successful enough to warrant further tests, and NS is now evaluating the data with a view to repeating the exercise over a longer period, probably on the same route.