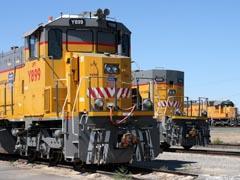 USA: Union Pacific Railroad is looking to the 'gamer generation' to meet the challenge of a changing workforce demographic.
The Class I railroad believes that the computer training programmes it has introduced to prepare new starters for work in its marshalling yards will appeal to those who have grown up playing computer games.
Replication of this kind of interface was at the forefront of a programme designed by two UP employees, Jon Jensen from its information technology group and Steve Bakunas from the rail operations division. The two UP staff worked with PI Engineering, a technology firm based in Williamston, Michigan, to develop simulation software to give new staff the decision-making skills required to work in large marshalling yards.
The collaboration resulted in UP's Rail Operations Simulation programme, which recreates its Cheyenne Yard in Wyoming in digital form. Cheyenne is a flat yard, and seen by UP as a useful example for employees to learn the basics of shunting operations and familiarise themselves with railway terminology and practice.
UP and PI Technologies have built on the initial product to create a similar simulation programme for hump yards, and a specific software package for handling remote control shunting locomotives. UP has subsequently installed ROS at 45 training centres across its network.