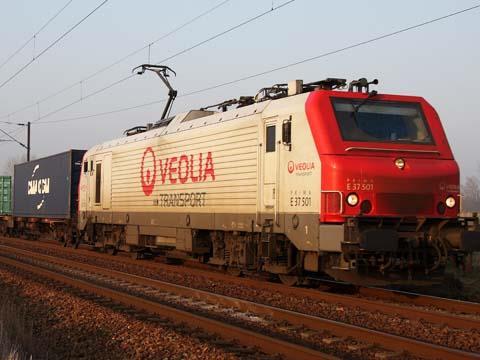 EUROPE: Veolia Environnement confirmed to the Paris stock exchange on September 3 that the sale of its rail freight business to SNCF and Groupe Eurotunnel had been agreed, subject to approval by competition authorities.
Veolia Cargo's operations in France, which include the Socorail, Veolia Cargo France, Veolia Cargo Link and CFTA Cargo businesses, have been acquired by Eurotunnel through its Europorte 2 subsidiary. Eurotunnel's Chairmain & CEO Jacques Gounon described the acquisition as 'a decisive step in the development of Europorte 2'.
Veolia's remaining freight operations in Germany, the Netherlands and Italy have been bought by SNCF.
In 2008, Veolia Cargo acquired German open access operator rail4chem, making it one of the country's largest private freight operators. According to SNCF Deputy Director Pierre Blayau, the business is now to be integrated into SNCF-Geodis to exploit the potential for the expansion of international block train services, particularly those between France and Rotterdam.
With 1 260 staff and 200 locomotives, Veolia Cargo handled 4·5 billion tonne-km in 2008, generating a turnover of €188m.
Veolia Environnement had indicated earlier this year that it saw the rail freight operations as a non-core activity for possible disposal, and confirmed on August 3 that it had opened exclusive negotiations with SNCF and Eurotunnel.