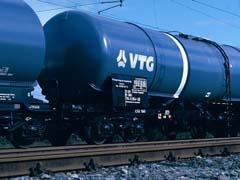 HAMBURG-based wagon leasing company VTG has announced its entry into the North American market with the acquisition of Texas Railcar Leasing Co. An agreement was reached with the family-owned business in December, with the transaction expected to be completed early this year. Financial terms were not disclosed.
Founded 20 years ago by Henry and Grace Novell, TRLX has grown to five employees and revenues of $4m in 2006. The fleet of more than 1 000 wagons consists mainly of covered, open and tank cars. Wagons are used throughout Mexico, the USA and Canada, with a broad customer base that is geared to long-term relationships.
VTG will integrate the activities into its Wagon Hire division. 'The acquisition of Texas Railcar is a key strategic milestone for VTG in extending our core competence in the field of leasing beyond Europe's borders', said VTG AG Chief Executive Dr Heiko Fischer. 'Our aim is to establish a foothold in the expanding US market and record constant growth by acquiring additional rail freight cars'.