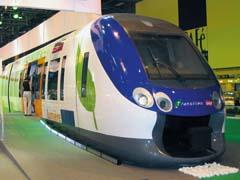 CZECH REPUBLIC: Over the past two decades, Prostejov-based Hanácké Zelezárny a Pérovny a s has transformed itself from its former position as the Soviet Union's principal suspension component manufacturer into Europe's leading supplier of coil springs for rail applications.
Sub-suppliers such as HZP are the first to challenge the popular perception of the Czech Republic as a cost-driven manufacturing base. Commercial Director Tomáš Flajsar emphasises that his company's products meet the same certification requirements as those produced in western Europe - and that sets HZP apart from its competitors in other parts of the world. 'We are a European company with European standards and European service,' he adds. 'We do not try to compete with India or China.'
Flajsar and his colleagues are in optimistic mood on the back of some prestigious contract gains and rapid growth. The company - which became a wholly-owned subsidiary of Moravia Steel in May 2008 - has seen organic revenue growth of 35% over the past two years, while production volume of coil springs is predicted to double from 2 698 tonnes in 2004 to around 5 000 tonnes by 2009, suggesting that HZP's strong bottom line cannot be attributed solely to the higher price of steel.
Although wagon manufacturers such as IRS in Romania and Slovakian group Tatravagonka are the cornerstone of HZP's customer base, the company has established a firm foothold in the passenger market. It provided coil springs for the primary suspension of Alstom's V150 trainset (RG 5.07 p267), and at InnoTrans it exhibited the springs it is supplying to Bombardier for its Francilien EMU (RG 8.08 p492).
'We want to cover the whole of the passenger vehicle market, from high speed trains to metro cars', says Sales Manager Zdenek Jareš. To achieve that, the company has set out a €6m investment programme for 2008-09, focused on new machinery and the introduction of lean production methods. But Flajsar explains that, in common with other Czech suppliers, it faces a major challenge in managing rising wages and a contracting labour market. 'In Prostejov, as in much of western Europe, unemployment is just 4% - a massive reduction has occurred in just two or three years. So improving productivity and automating processes is a major priority for us.'