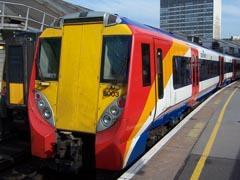 TICKETING: London commuter operator South West Trains and consumer body Passenger Focus comissioned Outlook Research to discover the reasons why some passengers appear reluctant to use ticket vending machines.
Surveys undertaken at 11 stations in southern England found that most passengers queuing at booking offices could have bought their tickets from a machine, but chose not to.
This could not be attributed to lack of awareness. Nine out of 10 queuing passengers were aware of the machines and 78% had used them in the past, with younger customers being a little more likely than others to have had experience of them.
Instead, non-usage was often due to the purchaser's lack of confidence in their ability to use the machine, or to select a ticket at the appropriate price with the necessary validity. Older passengers were less inclined to use ticket machines, and some passengers preferred face-to-face transactions to provide reassurance that they had the correct ticket. One in five queuing passengers had no particular reason for not using a machine, but simply did not consider the idea.
The study found it would be beneficial for train operators to emphasise the ease of advance purchasing, including internet booking with collection from machines. Train operators could highlight the availability of telephone call centres to discuss options, the speed of delivery, and advantageous pricing.