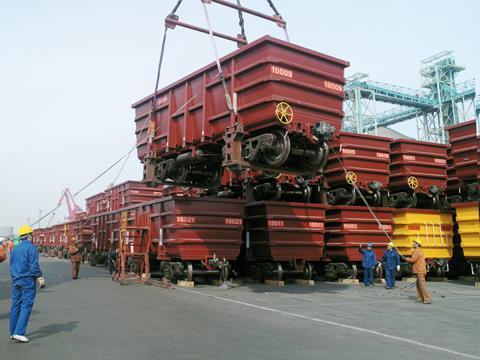 Australia: Siemens is to supply BHP Billiton Mitsubishi Alliance with 13 electric locomotives for use from late 2013 on 1067 mm heavy-haul coal trains from the Caval Ridge and Daunia mines in Queensland's Bowen Basin to Hay Point Coal Terminal.
Downer EDI and EMD are to supply 19 SD70Ace/LCi locos to Fortescue under a A$73m contract which includes five years of support.
Citing 'increased offshore competition, customer requirements for lower capital costs and shorter lead times for delivery', Downer EDI has announced it is to exit the locomotive manufacturing market over the next two years. It will concentrate on sales of EMD products manufactured elsewhere, along with repair and maintenance work.
China: UK firm Majorfax is supplying SKF with cast components for sensors to be used on the braking systems of Chinese trains.
Under a HK$1·7bn contract, CSR Qingdao Sifang is to supply 50 Type 25T coaches for use on Guangzhou – Kowloon MTR Intercity Through Train services from October.
Denmark: Banedanmark has confirmed the €61m contract for Alstom to supply Atlas ETCS Level 2 onboard equipment for 503 trainsets (RG 3.12 p22). Development and deployment is expected to take eight years.
Europe: Mallorca operator SFM has sold 13 CAF metre-gauge DMUs displaced by electrification to Portuguese firm Overview LDA for €10m.
France: RATP and STIF have exercised a €1bn option with Alstom (70%) and Bombardier (30%) for another 30 five-car MI09 double-deck EMUs for delivery to Paris RER Line A in 2014-16.
Germany: Mülheim's MVG has ordered five Bombardier Flexity Classic trams for delivery in 2015, exercising a €13m option on a €72m contract for 27 which was signed by Essen's EVAG in December. The 30 m long 2300 mm wide three-section 70% low-floor cars will be identical to the Essen vehicles.
DB has placed a €160m firm order for 38 Alstom Coradia Lint DMUs for use on Dieselnetz Südwest services in Rheinland-Pfalz, Hesse and Baden-Württemberg from 2015. The contract includes 14 units with 112 seats ordered under a 2008 framework, and 24 units with 160 seats as an option on a 2011 order.
India: Bombardier's Savli plant is to produce semi-finished Flexx metro 3001 bogies for export, starting with supplying the company's Australian plants with bogies for three-car EMUs ordered by the government of South Australia.
Italy: Ferrovie del Gargano has exercised a €15m option for a further three Stadler Flirt three-car 3 kV DC EMUs to be delivered in 2014.
Kazakhstan: Talgo has signed a 15-year contract worth €989m to maintain 1044 coaches for KTZ.
CNR has signed contracts totalling 1bn yuan to sell wagons to Linkos-Kom and KazGidroSnab, saying the deals consolidate its position in the 1520 gauge market which it entered in 2008.
CSR Ziyang is to supply 64 more diesel shunting locos to KTZ, following previous orders in 2008 and 2011.
Kyrgyzstan: On July 3 national railway KTJ awarded Kazakh manufacturer JSC Lokomotiv Kurastyru Zauyty a contract to supply five TE33A Evolution diesel locomotives. LKZ is expecting an order from Mongolia soon, along with certification for use in Russia.
Poland: Koleje Mazowieckie has signed a 13·5m złoty contract for Pesa to supply two SA135 single-car DMUs by November 30.
FPS was the sole bidder for a 175m złoty contract to supply 25 coaches to PKP IC.
Szczecin has bought another 45 second-hand Tatra KT4Dt trams from Berlin, which will enable the Polish city to withdraw its unmodernised type 105N and 105Na trams.
SKM Warszawa is taking delivery of six Newag 35WE EMUs owned by Millennium Leasing. The suburban operator has leased a PKP depot for 20 years and is to invest 20 m złoty to set up servicing facilities.
Thailand: Last month Siemens began shipping 35 cars ordered by Bangkok SkyTrain operator BTS to lengthen metro trains from three to four cars.
UK: Transport for Greater Manchester has ordered 20 more Bombardier/Vossloh Kiepe M5000 high-floor LRVs which will enable the withdrawal of Metrolink's original fleet of Firema T68 cars in 2014.
As a pilot for a possible more extensive programme, leasing company Angel Trains has awarded Bombardier a £6m contract to install new traction equipment on a Class 317 EMU, replacing its DC motors with AC and enabling regenerative braking. The interior of the 25 kV 50 Hz unit will also be reconfigured with a high-capacity 'metro' layout under a parallel £1m project.
Nomad Digital is to equip NI Railways' passenger fleet with free wi-fi.
USA: BART has confirmed a $266m order for 150 additional metro cars, the first option on a contract for an initial 260 cars which was signed on June 14. A pilot batch of 10 cars is scheduled to be delivered in early 2015, with the 400 production cars following in 2017-20.
Westinghouse Nuclear has taken delivery of a 36-axle Schnabel wagon for transporting reactor containment vessels. Manufacturer Kasgro says it is the largest wagon ever built in North America, at 70 m long with a capacity of 800 tonnes. Loads can be shifted 1 m laterally and vertically.
Wabtec has contracts worth $25m to supply brakes, couplers, event recorders, doors and PTC equipment for the 50 Hyundai Rotem EMU cars ordered for the Denver Eagle P3 project.