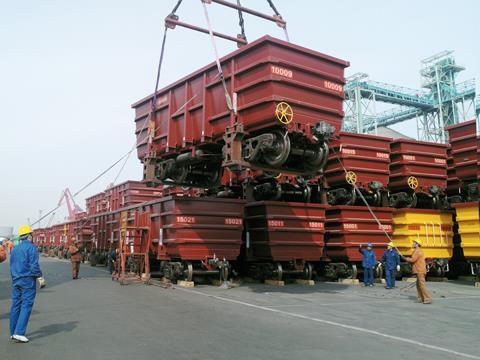 Argentina: Emfer has delivered three double-deck coaches to Buenos Aires commuter operator TBA. Each seating 110 passengers, the cars are equipped with wi-fi and a passenger entertainment system.
Austria: ÖBB has awarded Alstom a €90m contract to provide Atlas ERTMS equipment for 332 Class 1016 and 1116 locomotives, 50 Class 1216 locomotives and 67 Railjet driving cars. Installation will be undertaken by ÖBB TS.
Bangladesh: Last month BR ordered nine metre-gauge diesel locomotives from Hyundai Rotem with support from South Korea's Economic Development Co-operation Fund. They will be delivered within 24 months at a cost of 2·8bn taka.
Belgium: De Lijn has placed a €32m order with Siemens for 13 more Herme-Lijn metre-gauge trams to be delivered in 2011-12 for use in Antwerpen and on the coast route in summer.
Brazil: Sugar and ethanol producer Cosan has ordered 50 AC44i diesel locomotives from GE Transportation South America to haul sugar from processing plants to the Port of Santos using ALL's rail network.
Bulgaria: Sofia has bought 30 second-hand standard-gauge Tatra T4DM and B4DM trams from Iftec of Germany, and is seeking 20 to 30 used trams for its 1009 mm gauge routes.
China: A series of international contracts have been won by China Northern. Four DMU cars and four diesel locomotives will be supplied to Nigeria this year. 90 grain hopper wagons are being be supplied to Australia, 703 ore wagons to Mongolia and 20 flat wagons to India.
Czech Republic: CD is to modernise 1000 coaches over four years, starting with a call for tenders to refurbish 58 inter-city coaches with new air-conditioning, retention toilets and information systems. A further 166 coaches will be refreshed this year.
Denmark: DSB is to fit emissions reduction kits supplied by EMD to half of its 36 Class ME diesel locomotives, which are now expected to remain in service longer than anticipated.
France: Alstom has been awarded the first €130m follow-on order for 19 Régiolis multiple-units under the framework for up to 1000 trainsets which SNCF signed in October on behalf of a consortium of regional authorities (RG 12.09 p9).
Under a €90m contract Alstom will supply Rouen with 27 Citadis trams to replace Tramway Standard Français cars dating from 1993-94. They will be 42 m long and 2400 mm wide with space for 300 passengers, and will consume 10% less energy.
Germany: LNVG has placed a €75m order for a further 28 two-car Alstom Coradia Lint DMUs. Entering service in December 2011, they bring the Niedersachsen transport authority's total Coradia order to 120 units.
Hungary: Funded by a loan from KfW IPEX-Bank and EIB, MÁV has signed an €80m order for 25 Bombardier Traxx P160AC electric passenger locomotives to be delivered from early 2011, with an option for 25 more.
Kazakhstan: Transmash Holding's DMZ business is to supply KTZ with a further two 10-car ED9M suburban AC EMUs this month.
Pakistan: In December PR signed a US$110m loan agreement with China's EXIM Bank to fund the purchase of 75 Dongfang locomotives, and a US$134m loan for 205 CMC coaches.
Poland: Protram has signed a 34m zloty contract to supply MPK Wroclaw with eight 205WrAs partially low-floor three-section trams and eight 204WrAs single cars (RG 7.09 p15).
In December Warszawa suburban operator SKM selected Pesa's 364m zloty bid to supply 13 high-capacity EMUs.
Russia: Petersburg Tram Mechanical Factory has signed a 78m rouble contract to supply St Petersburg's Gorelektrotrans with a further seven 71-153 40% low-floor trams, bringing the total order to 16.
Vagonmash is to supply the postal service with 10 mail vans.
In December Brunswick Rail Leasing took delivery of the first batch of 100 type 12-9046 open wagons produced under a long-term contract with Stakhanov Wagon Works.
The New Forwarding Company subsidiary of Globaltrans has placed a 4·4bn rouble order for 3000 open wagons with Uralwagonzavod, with an option for 3000.
Spain: RENFE has awarded a €641m 14-year contract for the maintenance of 30 Class 112 high speed trains to Talgo, which is currently manufacturing the coaches, and Bombardier which is producing the power cars.
Sweden: AB Transitio has placed a €96m order for a further 11 three-car Bombardier Contessa EMUs, with an option for five. They will be leased to local authorities to provide more capacity in the Øresund region, and bring the total number of Contessas ordered to 111.
Switzerland: Genève operator TPG has placed a SFr154m order for 32 five-section 44 m long 2300 mm wide metre-gauge Stadler Tango trams to be delivered in 2011-14, with options for 24 more.
Schalke is to supply Rhätische Bahn with four 1·8 MW metre-gauge diesel-electric locomotives in 2012-13 for use on maintenance and snow-clearance trains.