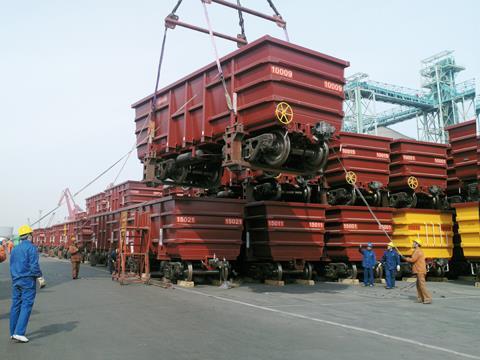 Australia: Downer EDI has won orders totalling A$300m to supply Pacific National with 13 locomotives in 2011-12 and undertake infrastructure renewals projects for ARTC.
Brazil: CPTM has awarded Alstom a €80m contract to supply nine eight-car metropolis trainsets for São Paulo Line 11 by mid-2012 (p16).
Croatia: TZV Gredelj has signed a €10m contract to provide Czech company Legios with wagon components.
HZ Vua Vlakova has returned to service five 1960s Ðuro Ðakovi Class 2041 locomotives which have been repowered with Caterpillar 3412E engines under a 25m kuna modernisation project by TZV Gredelj.
Czech Republic: Having won export orders from Slovakia and Lithuania for CityElefant double-deckers, Skoda is developing plans for a single-deck regional EMU.
France: Valenciennes transport authority Siturv has ordered seven 32 m Alstom Citadis trams costing €17m for the opening of Line 2 in 2013, with an option for two more.
Germany: Berlin metro operator BVG has ordered six RL80T two-axle shunting locomotives with 330 kW Deutz Diesel engines from Windhoff.
Hungary: AnsaldoBreda has won a €41·3m contract to supply 18 Sirio low-floor trams to Debrecen by early 2013 to work the future Line 2.
Budapest's BKV is taking delivery of eight TW 6000 light rail vehicles from Den Haag, which had acquired them second-hand from Hannover.
Israel: ISR has awarded Bombardier a US$195m contract to supply 10 six-car rakes of double-deck push-pull coaches plus 18 cars to expand current trainsets. Deliveries will begin in November 2011 for completion by April 2012. ISR is to concentrate on double-deck stock in future to accommodate rapidly-growing traffic.
Italy: Ansaldo STS has won a €31m contract to supply seven four-car AnsaldoBreda trainsets for the Genova metro which is being extended from De Farrari to Brignole.
Latvia: LDz has award CZ Loko a contract to modernise one initial KD ChME3 locomotive, fitting a Caterpillar 3512C engine.
Luxembourg: CFL announced a €60m order for eight three-car Stadler double-deck 25 kV/15 kV EMUs on October 7, with an option for 31. To provide an hourly Luxembourg - Koblenz service from 2014, they will be similar to units ordered by SBB which Stadler is marketing under the brand name KISS (p70).
Malaysia: Trelleborg is to supply more than 2000 Metalastik chevron suspension mounts for the refurbishment of 130 KTMB coaches used on long-distance services.
Mauritania: SNIM has ordered six EMD SD70ACS locos to enable the operation of heavier mineral trains from late 2011. They will have pulse filtration, movable sand ploughs and air-conditioned cabs with a customised roof to dissipate heat in desert temperatures of 50°C.
Netherlands: NS Reizigers and Nedtrain are to fit a DD-AR double-deck EMU with a new interior by mid-2011 as a prototype for a planned modernisation of the fleet.
Poland: Siemens and Newag are to supply Warszawa metro with 35 six-car trainsets at a cost of 1·35bn złoty in 2012-13, with 20 allocated to Line 2 and 15 to supplement the Line 1 fleet. Siemens developed the Inspiro design for eastern Europe, and the first 10 cars will be built in Germany, the rest at Newag's Nowy Scz plant.
MPK Czestochowa has selected Pesa to supply seven 120Na trams by November 2012 at a cost of 50·3m złoty.
Opolskie has ordered a pair of 220M two-car DMUs from Newag for delivery by April at a cost of 17m złoty.
MPK Wrocław has selected Protram to supply a further eight 205WrAs part-low-floor trams for 28·3m złoty.
ZNTK MM is to supply Lubuskie voivodship with two 2-car 'budget' DMUs for 16·6m złoty. It will supply Podkarpackie voivodship with five single-car units for 24m złoty and one 2-car unit for 8·3m złoty.
Russia: EBRD is providing Globaltrans with a 650m rouble loan towards the purchase of 5000 open wagons in 2010-11.
NLMK Independent Transport Co paid 2·97bn roubles for 10000 wagons auctioned by RZD on September 30.
On September 28 Transmash Holding and Tatravagonka signed an agreement for the joint production of wagons at TMH's Engels works, using components from the Bezhitsk Steel Plant. A technical co-operation agreement was signed in April.
Slovakia: ZOS Vrútky expects to roll-out a regional DMU during December, the prototype for a batch of 12 three-car units ordered by national passenger operator ZSSK.
Spain: RENFE is modifying four standard gauge Class 252 electric locos to haul freight between France and Barcelona on the new Perpignan - Figueres line, dual-gauge routes (RG 3.09 p11) and the Girona - Mollet high speed route. This includes installing ETCS Level 2 equipment and modifications for 1·5 kV DC overhead.
Sweden: Green Cargo has awarded EuroMaint Rail a contract to maintain its locos at 11 depots until 2012, with an option for a further two years.
Switzerland: Sihltal Zürich Uetlibergbahn has placed a SFr58m order with Stadler Rail for six three-section 1·2 kV DC/15 kV AC EMUs to increase capacity from 2013.
Thailand: Bangkok Skytrain operator BTS has signed a 2m baht order with Siemens for 35 cars to extend its trains to four cars within 30 months.
USA: Chicago commuter operator Metra has ordered 160 gallery EMU cars from Sumitomo and Nippon Sharyo for delivery in 2012-15 at a cost of $560m.
On September 27 The Greenbrier Companies announced orders totalling $200m to supply 2250 double-stack wagons and 500 covered hoppers plus 250 wagons of various types for European customers.