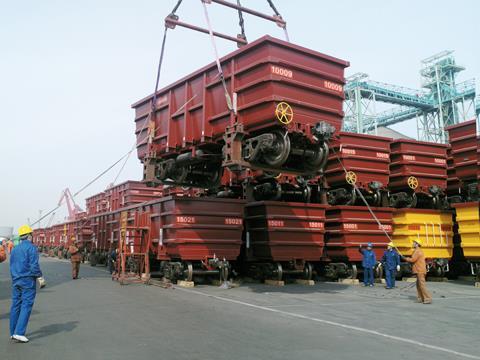 Bangladesh: BR is to study the feasibility of setting up a domestic passenger rolling stock plant at its Saidpur workshops.
China: CSR Puzhen has begun delivering 700 Type 25G coaches to the Shanghai Railway Bureau.
Egypt: The National Authority for Tunnels has awarded a consortium of Mitsubishi, rolling stock manufacturer Kinki Sharyo and electric equipment supplier Toshiba a contract worth around ¥18bn to supply 88 metro cars to Cairo in 2012-13.
Estonia: On August 4 preferred bidder Stadler Bussnang signed the contract to lease 20 diesel and sell 18 electric Flirt multiple-units to Elektri­raudtee (RG 5.10 p21). Deliveries will run from 2012 to 2014.
France: Strukton is to supply operator Tisséo with IGBT chopper traction equipment for refurbishment of the fleet of 28 VAL2006 light metro trains in Toulouse during 2011-13.
Germany: On August 19 Stadler Pankow announced a €15m contract to supply eight RS1 diesel railcars for use on Württembergischen Eisenbahn's Korntal – Heimerdingen services from 2012.
Italy: Freight operator Compagnia Ferroviaria Italiana has leased four Siemens ES64F4 locomotives from MRCE Dispolok under an October 2009 framework agreement.
Poland: Kraków transport operator MPK has placed a €58·7m order for a further 24 Bombardier Flexity Classic trams to be delivered from March 2012 to 2013. Bombardier's €40m share includes assembly at Bautzen while Vossloh Kiepe will provide electrical equipment.
Tramwaje Szczecinskie signed a 55·2m zloty order for six Pesa 120Na trams on July 22.
MPK Poznan has ordered an additional five Solaris Tramino trams at a cost of 43m zloty, extending a basic order for 40 cars which are to be delivered in 2011-12.
Saudi Arabia: On July 20 CSR Qishuyan signed a 74·2m riyal order to supply SRO with 10 diesel freight locomotives to handle growing freight traffic. The contract includes three years of maintenance and staff training.
Slovakia: ZOS Vrútky has won a €75m contract to supply ZSSK with 10 air-conditioned Ampeer and Bmpeer inter-city coaches in 2012-14, with an option for a further 30. They are intended for 160 km/h running, though some will be ZSSK's first pressure-sealed cars suitable for 200 km/h.
Spain: Patentes Talgo has been awarded a €1·65m contract to upgrade ADIF's 'Seneca' high speed inspection and recording train (RG 2.08 p75). ADIF plans to make the train available to other infrastructure owners.
Sweden: Hector Rail has bought a Siemens Eurosprinter locomotive from MRCE Dispolok.
On August 20 Bombardier announced a €21m order to supply Norwegian financial services group DnB NOR with six Flexity Classic 70% low floor trams. They will be leased to Stockholm transport authority SL for the Spårväg City line, which was due to open on August 23 using trams leased from NorrkÖpping and Frankfurt ((RG 7.10 p15).
Tunisia: Alstom has received a €58m contract to supply Tunis transport authority Transtu with 16 more Citadis trams and to maintain the expanded fleet of 55 vehicles for five years. The extra cars are required to meet growing demand generated by network extensions to El Mourouj on Line 1 and La Manouba on Line 2.
USA: The first of 19 locomotives MotivePower is supplying to Virginia Railway Express under a $77m contract was unveiled on July 30. Replacing 18 owned and three leased locomotives, they will enable trains to be lengthened from six to 10 coaches.
On August 13 Chicago's Metra approved the purchase of a further 160 Sumitomo EMU gallery cars costing $560m to work the 50 km Electric District. Delivery will start in two years.
PATH has taken up an option to buy an extra 10 metro cars from Kawa­saki at a cost of $15m bringing the total order to 350. By the start of August 155 vehicles had been delivered.
Vietnam: CNR Jinan is to deliver 30 metre-gauge open wagons this month, its first order from DSVN.