Modernisation Slovakia's national passenger operator ZSSK has called three tenders for the supply of new rolling stock, which should help to rejuvenate the railway's fleet and attract passengers after years of falling patronage. Michal Málek reports.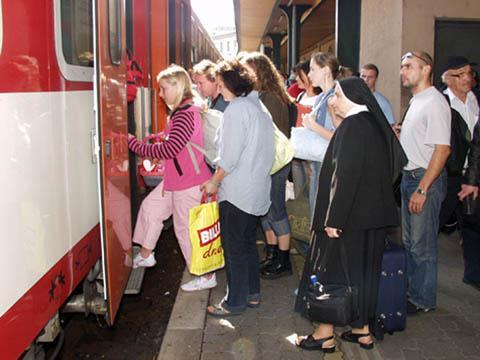 At the end of December 2007, ZSSK owned 153 electric locomotives, 59 diesel locomotives, 72 electric m ultiple-units and 172 diesel railcars and multiple-units. The non-powered fleet consisted of 232 multiple-unit trailers and 1 263 passenger coaches. No fewer than 30% of powered units were aged 30 years or more and the state of the hauled passenger fleet was even worse, with over 40% more than 30 years old.
Last month ZSSK called tenders for three contracts which form an important part of a major fleet modernisation programme for the period 2008-12. Endorsed by the government on December 19 2007, the programme is primarily targeted at rolling stock renewal for trunk corridors, but an upgrade of passenger comfort on local lines, still served mainly by spartan Class 810 two-axle railcars and their derivatives, is also included. The programme is estimated to cost €345m in total, with funding coming from a mix of the railway's own sources, loans from Eurofima, the state budget and funds from the EU. The evaluation of all the bids is due on ?November 11.
New orders
The first order for rolling stock to be placed under the programme is for 10 double-deck push-pull train formations (10 driving cars plus 22 trailers) for suburban operations around Bratislava and Trnava. These will be hauled by 10 Class 263 25 kV 50 Hz AC electric locomotives, which will be modernised as part of the contract with a complete upgrade of their electrical equipment. The ?locomotives were built by Skoda at the Plzen works in 1988. The contract also covers the long-awaited purchase of two 3 kV DC/25 kV 50 Hz AC/15 kV 16·7 Hz AC multi-system electric locomotives for cross-border duties, with a maximum speed of 160 km/h. Total value of the contract is €79·7m.
In the second tender, ZSSK has invited bids for the purchase of 10 three-car (power car, intermediate trailer, driving car) double-deck EMUs for suburban operation around Žilina and Kosice. The 3 kV DC/25 kV 50 Hz AC dual-voltage trains with a top speed of 160 km/h are expected to cost up to €92·3m, and delivery will be completed over the seven years after the signing of the contract. The new trains will replace the ageing fleet of Class 460 and 560 multiple-units built by Vagonka Studénka between 1971 and 1978.
The third public tender is for the supply of 12 three-car inter-regional diesel-electric multiple-units. Worth up to €53·1m including staff training, these sets are also planned to be delivered over the next seven years. Due to be allocated to Nové Zámky and Humenné depots, they will be based on six Class 840 DMUs of Type GTW 2/6 delivered by a consortium of Stadler and ZOS Vrútky, which ZSSK has been operating since 2003.
Hauled coaches modernised
Both the refurbishment and purchase of new hauled passenger rolling stock have been high on ZSSK's agenda for several years. The current modernisation project follows the long-term programme to refurbish coaches for both domestic and international inter-city services implemented since 1996 by domestic supplier ZOS Vrútky in collaboration with DVJ Dunakeszi of Budapest.
In three stages, this has seen obsolete coaches of Types A, B, AB, Bh, Bc and BDs rebuilt into first-class Type Apeer/Aheer/Aeer, second-class Type Bheer/Bpeer/Beer, first-class/restaurant Type ARpeer, second-class/service cars Type Bdsheer/Bdseer and Type WRReer restaurant cars. A total of 152 coaches have been treated, with improvements such as disc brakes, air-conditioning, automatic plug doors, wheelslide protection and hydraulic shock absorbers. Funding of the refurbishment programme was mainly provided through Eurofima.
In September 2007 ZSSK took delivery of the first of a batch of 20 Type Bmpeer second-class and five Type Ampeer first-class air-conditioned coaches designed for the railway's flagship internal inter-city services between Bratislava and Kosice. Worth €33·2m, the coaches were ordered in October 2006 from a consortium of ZOS Vrútky and Siemens as the first new passenger coaches to be designed and manufactured in Slovakia.
The 26·4 m, 48-tonne open-saloon coaches are equipped with Type SF300-2S/MG bogies supplied by Siemens Austria with maximum speed limited to 160 km/h. Air-conditioning is supplied by Liebherr Verkehrstechnik. The coaches have seating for 76 (Bmpeer) and 54 (Ampeer) passengers respectively; the upholstered seats are produced by ZOS Vrútky itself. Delivery of all the coaches is to be completed by May 2009.
Meanwhile, in September 2006, ZOS Vrútky embarked on a programme to convert ZSSK's remaining nine Type BRcm couchette/buffet cars, built in 1984 in East Germany, into seven Type WRRmeer restaurant cars (replacing older Type WRRm) and two Type SRmeer/WGmeer dancing/conference coaches for use on the Bratislava – Žilina main line. Worth €7m, the air-conditioned pressure-sealed and soundproofed coaches are fitted with new interiors similar to the previous Type WRReer and ARpeer rebuilt coaches. The first Type WGmeer coach emerged in August 2008, and delivery of all the vehicles will take place by the year end.
This year, ZOS Trnava began an extensive programme to convert 64 Type Amee/Bmee coaches built in the 1980s into Type Bmeer second-class air-conditioned cars. Apart from complete refurbishment of the interior, the cars will gain new underframes allowing them to meet UIC standards for international operation, under a programme worth €12m. Some coaches will be rebuilt at the Gosa Smederevska Palanka works in Serbia, which was acquired by ZOS Trnava in January 2007. Completion is due in 2009.
In August 2008, ZOS Trnava also won two contracts to modernise coaches for ZSSK's regional operations. The first order is for refurbishment of 70 Type Bdt cars into Type Bdtee/Bdteer second-class open saloon coaches, incorporating new interiors with upholstered seats, new flooring, windows and vacuum toilets and space to carry bicycles. One significant advance for regional services is the provision of air-conditioning in the passenger saloons. This €44·2m contract will be completed by the end of 2013.
A second contract will see the whole fleet of ZSSK's 30 Type BDshmee and BDshmeer second-class/service cars (built in 1987-88) rebuilt into Type Bdghmeer coaches, which will allow comfortable transport of wheelchair passengers, bicycles and bulky luggage. The rebuild will involve the fitting of new floors, windows and doors, as well as air-conditioning. Worth €20·7m, the whole fleet should be operational by late 2012.
Elsewhere, some minor refurbishment projects have also taken place, including conversion of Type Bdtmee second-class coaches into Type Bdgtmee with two new compartments for bicycles and train crew. In 2007, ZOS Vrútky began refurbishment of 27 redundant Type Bc couchettes into 19 Type B, four Type Bd and four Type Bg cars, which involved conversion to a second-class compartment layout with 60 seats, and featured replacement floors, air-conditioning and vacuum toilets. Maximum speed is 160 km/h. Four more Type Bd conversions were ordered in 2008.
Moreover, ZSSK is to call bids soon for the supply of a further 20 new air-conditioned coaches (15 second-class and five first-class) for internal and international long-distance services with a maximum speed of 200 km/h. The estimated value of the order is €47m, including an option for 10 more second-class cars, with delivery due four years after the signing of the contract.
Traction upgrade
ZOS Zvolen continues to modernise Class 810/010 diesel railcars and trailers into Class 813/913 two-car DMUs (RG 5.07 p316), which feature the most significant improvement of passenger comfort on Slovak regional lines to date. ZSSK has ordered 29 conversions in total for €25m, of which 24 will be completed by the end of the year and the remainder in 2009. The DMUs are principally allocated to Prievidza, Kosice and Žilina depots.
Over the three years from 2009, the fleet of eight remaining Class 162 3 kV DC locomotives will be modernised as Class 362 dual-voltage machines in conjunction with the conversion to 25 kV 50 Hz AC of the ZSR line between Púchov and Žilina. This follows a programme of bogie exchanges between Classes 363 and 162 implemented since 1999. Under this project, 15 Class 363 120 km/h dual-voltage electric locomotives have been fitted with 140 km/h bogies from the Class 162s and redesignated as Class 362. The Class 162s that received 120 km/h bogies have become Class 163.1.
Regarding ZSSK's diesel fleet, the latest improvement has been the refurbishment by ZOS Zvolen of five Class 735 Bo-Bo diesel-electric loco-motives to create Class 736.1. Re-powered with Caterpillar 3512 DITA engines rated at 990 kW and an AC/DC transmission, the upgraded locos are designed for light passenger services on non-electrified lines. The work follows a similar programme of 24 conversions being undertaken for freight operator ZSSK Cargo.
Also part of ZSSK's 2008-12 modernisation programme is the installation of ETCS on-board equipment on 33 locomotives, and preparation for the installation of GSM-R radio and the reconstruction of Unipuls auxiliary drive converters on 17 Class 362 and 363 dual-voltage electric locomotives.